Fisher gets his shot to stop the losing at MSG
VINCENT DAVIS | 6/12/2014, 3:22 p.m.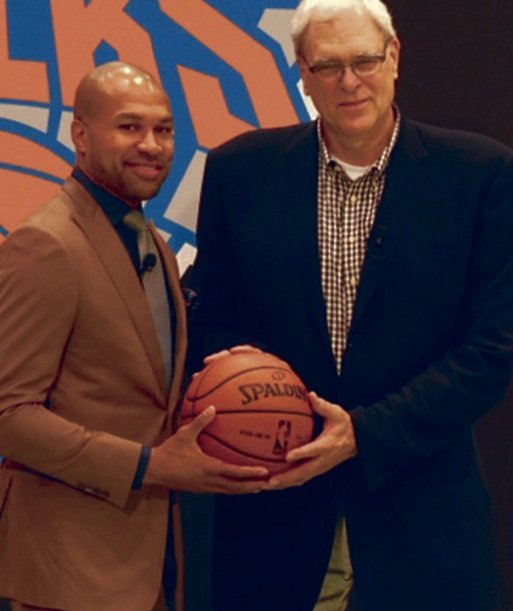 TARRYTOWN, NY – It's hard to believe there have been 25 past head coaches of the New York Knicks. They've never done a George Steinbrenner and hired the same coach multiple times, so 25 does seem like a lot.
Derek Fisher–who 11 days ago was an Oklahoma Thunder point guard whose team was eliminated in the NBA Western Conference finals, and before that, a five-time champion with the Los Angeles Lakers, with current Knick president, Phil Jackson, head coaching, and was once president of the NBA Players Association, is now the 26th head coach of the New York Knicks, for five years, at $5 million per year.
Introduced Tuesday morning to the media at the Knicks' practice facility in Tarrytown, N.Y., and to the the world via television, radio and the Internet, coach Fisher, accompanied by Jackson and GM Steve Mills at his left and right, impressed the throng of basketball writers and sportscasters who filled the room with his intellect, his acumen and his love and respect for the game. There has always been a respect for Fisher's basketball IQ, but, to keep it real, there was no coaching philosophy, ideology or past coaching experience for Fisher to impart.
Like Jason Kidd, the Brooklyn Nets' recent hire, Fisher will immediately go from the players' section on the bench, where he will sit or pace the sideline, without any experience at all. Ties seem to be optional, but what isn't an option, or optional, is getting his team's respect in the locker room and on the bench.
Will he get the team to buy into Phil Jackson's triangle offensive philosophy? Or will he develop his own offensive and defensive philosophy? They might have paired philosophies, the triangle offense or a no-triangle offense. The one smart thing that Fisher did impart, and re-emphasized, is that he must do what's best for the team.
He must do what will work, with the players he has. Considering the current player roster, it will take some degree of work, though Derek claims that he has a higher regard for those currently on his roster than do many of those who attended this press conference.