Harlem district hosts first ever spelling bee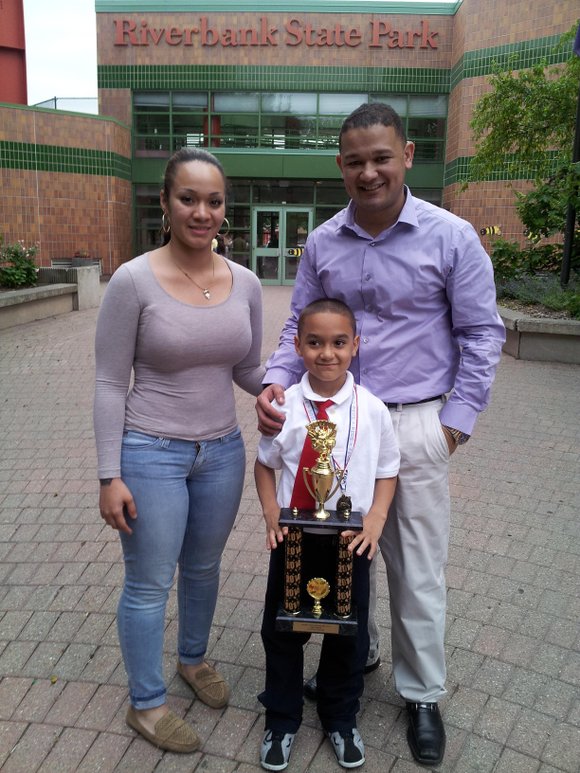 Fourth-grader Zsuriah Harvin, from P.S 154, though initially nervous, was only a little bothered by not winning the competition. "Each day I studied for like 30 minutes with my sister, [so] I'm kinda upset because I didn't get a chance to win because they gave words I didn't know, [but] otherwise I just feel good."
Despite the inevitable disappointment of not winning, most parents and children were just thrilled to be able to participate. Albert Sloh, the proud father of fourth grade runner-up Alyeada Sloh, was more than adamant about the fact that the bee was not about who went home with the trophy, but the experience and the academic stimulation.
The students were quizzed on words such as agitated, hemisphere, caption, intricate, discrepancy and silo by lively, welcoming judges, including former City Council Member Robert Jackson; Kofi A. Boateng, PhD, executive director of West Harlem Development Corporation; Audrey O'Keefe of Standard and Poors–McGraw-Hill Financial; Audrey Gaul, New York education chair, NAACP; and Anthony Harmon, executive director, UFT.
The spelling bee is one of many positive initiatives geared toward stimulating the minds and improving the educational opportunities for Harlem students. Riverbank State Park officials have recognized the necessity for such events and allowed the use of the park's Cultural Center for the bee.
"We are excited to be part of such a positive event for the community and for the school children of District 5," said Scott Matson, operations director and acting deputy regional manager for the park. "Students, faculty and parents came to Riverbank in May to partake in 'I Love My Park Day,' an annuaal statewide cleanup event, and we're delighted to deepen our relationship with the school district by partnering for the spelling bee."
Though the sentiment is commendable, most parents would agree with Sloh. "It's a step in the right direction, [but] it's overdue."