Lacoste's sole shoes for men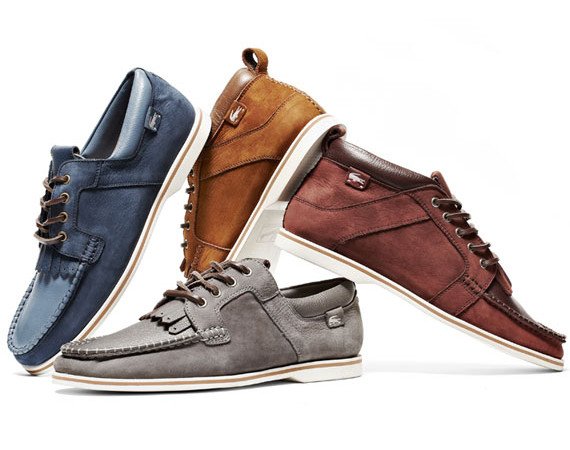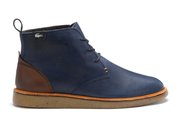 For autumn and winter, Lacoste Essential Design shows several collections in one. Overall, the company continues to combine classic silhouettes with a contemporary twist of colors and materials. The look is a sophisticated mix of high-end street wear and quality essentials. Lacoste Essential Design gives the discerning gentleman quality foot fashion that can be worn day or night.
This season, there are raw elements of the great outdoors that have evolved. Color pops. Look for russet orange, leaf green and misty yellow. Often, features include elastic gussets and cable stitching highlights. In the Cupsole Rand family, the Chelsea boot, in rich materials combinations and an autumnal palette, explores city feet. There are lots of leather sole treatments. As an alternative, find a low version of the utility boot. The traditional court sneaker is offered with perforated leather and an alternative strap-closure system for a snug fit.
Lacoste's sportswear collection embraces the spirit and playful self-confidence of Rene Lacoste off the court. Staying true to his sporting origins of tennis, golf and boating, there are themes threaded through designs that are adapted for city life. The company has reworked their staples and combined this footwear collection with stylish easygoing charm yet versatility. The fashion front-runners include the staple Derby boot, the nautical classic mock for boating and the Helaine Runner in burnished leather. In the prep category, the golf-inspired Rene Prep offers a clean, modern lace-up. In living color, there's a retro-futuristic design mix that combines modern details such as reflective strips, performance elements and colorful flashes, with traditional materials like velvet, full–grain leather and suede.
Another line in the collection shows refined footwear that celebrates perfection in form and function. It's about winning with style. Their LCST footwear line is inspired by an adventure through the cityscapes of Asia. From the bustling streets of Bangkok to ultra-bright Tokyo nights, the LCST statement style is always one step ahead. In this group, there are highlights like neon signs, heavy brights and the hyper-hustle style of modern urban life. All of these key technical touch points were referenced in the collection. These street styles with bold branding are shown in bright colors and tech-influenced fabric finishes.