New Yorkers/Nigerians host panel on state of girls in Nigeria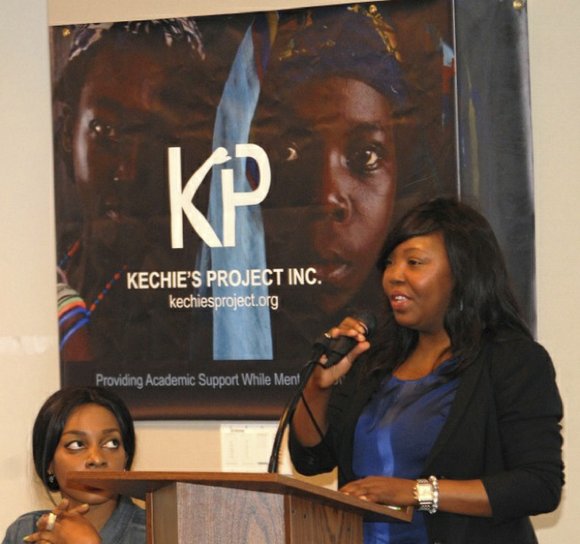 The kidnapped 276 Nigerian girls have not been returned to their homes in Chibok, Borno State, but neither have they been forgotten. While mothers, men and young people have gathered up their meager resources to trapse through the dense and deadly Sambisi Forest, where the abducted school girls were thought to be held initially, and the military tries to coordinate an adequate retrieval effort, people in other parts of the world are doing their part to keep the genuine #bringbackourgirls movement going.
Twice a week, the Rev. Herbert Daughtry and his Interfaith Clergy group hold a daily prayer vigil at the United Nations. On June 26, the Rev. Cheryl Anthony will be among a group of clergy heading to Nigeria to address the issue.
On Monday, June 9, Nkechie Ogbodo, president of Kechi's Project, presented a forum with a host of organizations, individual activists and everyday people, gathered at 777 United Nations Plaza to discuss the "State of Girls in Nigeria."
Kechie's Project is a New York-based nonprofit dedicated to the education of Nigerian girls and is at the forefront of the effort to rescue the missing girls of Chibok. This forum addressed why Nigerian girls are under attack not only from the likes of Boko Haram but also from other cultural, religious and social entities that, Ogbodo said, keeps them perpetually at risk for situations such as "forced underage marriage, sexual and domestic abuse, the likelihood of becoming a victim of human trafficking, higher infection rate of AIDS/HIV and other STDs and little or no access to education."
Featured panelists were guest speaker Stacey Scarpone, executive director, Women's Fund of Long Island; our own Nana Brew-Hammond; Rahama Kassim of Civil Society of Nigeria (who flew in from Kano that same day); Nana Afsou-Randal of Voices of African Mothers; Dahiru Tahir Biu (with at least one Boko Haram family member) of the Nigerian American Leadership Council; and Bobby Diggy of Island Voice (Staten Island). It was a riveting and informative presentation and discussion.
"At our panel discussion events, we are about collective processes to get things done, one young girl at a time, both in Africa and internationally," Ogbodo stated. "It was such a good thing to get together to be inspired as we did today. We are not asking for favors from the Nigerian government, but we only try to tell the truth about the Chibok girls and beyond. Truth is not politics, as we have all seen. Politics is just a means to an end but not always the desired end."
With issues such as Nigerian President Goodluck Jonathan's 2015 re-election bid being bandied about as a possible cause for a calculated destabilizing effort, to the speculation as to possible underhanded international collusion in the funding and supplying of the notorious Boko Haram, Ogbodo stresses that Kechie's Project is not about politics. "We are about movements, changes and working together. We promise to fight on until the Chibok girls are found."
Professor Stella Okereke, chairperson of Daughters of Africa in Diaspora, spoke on how to move Nigeria forward. She emphasized her organization's priority: "To increase the awareness of gender wrongs and advocate action for essential human progress, transformation that adds value to life and puts a lid on unjust policies and discriminatory acts aimed at retarding the girl-child."