New Yorkers/Nigerians host panel on state of girls in Nigeria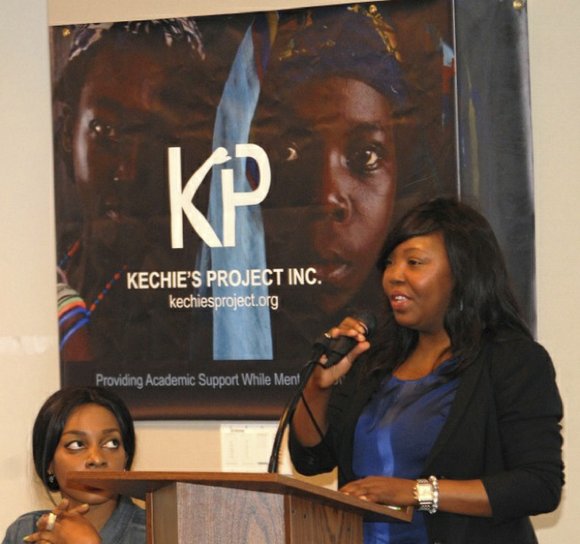 Okekere analyzed some of the most horrendous problems facing these young juvenile girls. "Media reports from Nigeria had it that girl hawkers are sexually molested, harassed, abused and raped."
The professor stated, "The Chibok girls are suffering the same government neglect from leaders who did not believe the girls were kidnapped, do not know where they are and are clueless as to how to handle the situation. It is a hopeless situation in a nation where the president has saboteurs in his administration who keep furnishing the enemies with government plans, and the security system is ill-equipped in all areas of security equipment."
The panel was an insightful and vital exchange of ideas and proposals for the way forward. But even as speakers took to the podium, Ogbodo announced the news of at least 20 Fulani men, women and girls being snatched midday at gunpoint from a nomadic settlement, Garkin Fulani, near Chibok town, Borno State.
On April 14, about 300 girls were abducted by the extremist group Boko Haram, which has been terrorizing Nigeria for five years, slaughtering civilians and law enforcement and military personnel, and burning down entire villages. The world determined that Nigeria's president had a slow and ineffective response to the abduction, despite a military official claiming two weeks ago that they knew where the girls were located but would not go in blazing for fear of injuring the students in any attempted rescue.
In the interim, it is being reported that local hunters and members of a militia called the Vigilante Group of Nigeria were recently deployed to secure Chibok schools and the returning junior secondary school students set to write their term papers. But they claimed that by the time they heard of this latest kidnapping, the kidnappers were able to get away.
Reported by Allafrica.com, Alhaji Tar, the chairman of the Vigilante Group, said, "We were told that the gunmen went to Garkin Fulani near Chibok town and forcefully took away the women. Due to poor communication, the news did not go out immediately. Even the Fulani men only got to know about it when they returned home late in the evening, but villagers around the place said they saw the gunmen driving in about three Hilux jeeps."
Meanwhile, a week ago, within a day of hundreds of people being gunned down in Atagara Village in the Gwoza Local Government Area of Borno State, an additional 45 people were reportedly slain, also by suspected members of Boko Haram, in Bargari Village in the Konduga Local Government Area.
Kechie's Project, in collaboration with Harlem4 and Street Corner Resources, organized a May 10, five-mile march from Harlem to the Nigerian Consulate. Ogbode said, "Our rally had a broad coalition of activist groups, churches, government officials. New York Mayor Bill de Blasio and family, along with the Rev. Al Sharpton and many other notables, attended and spoke at the rally to support our cause."
Ogbodo said her group, which was founded in 2010, has "been providing educational scholarships to girls in Nigeria, while delivering mentorship opportunities to our girls in Harlem, to whom we are equally committed." She said, "As a New York-based nonprofit organization, we are dedicated to empowering underprivileged and under-represented girls in Nigeria to reach beyond their poverty, gender and cultural limitations."