One Hundred Black Women supporting Nigerian girls
6/12/2014, 4:09 p.m.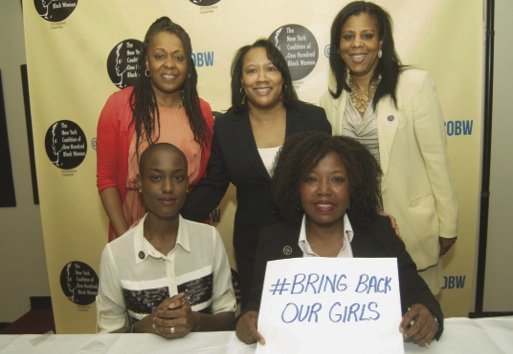 The New York Coalition of One Hundred Black Women hosted an informative program on the issues facing women and girls in Africa and beyond. With the current situation unfolding in the African nation of Nigeria, that is, the abduction of nearly 300 school girls and the otherwise ongoing unrest, the New York Coalition of One Hundred Black Women hosted a program at its membership meeting on May 28 titled "What's Happening to Our Girls." It focused on the plight of women and girls in Africa and beyond, with a special emphasis on education and empowerment.
The program was open to members of the community. To address these issues and to highlight the importance and the impact of international pressure and condemnation in helping to end the current crisis, as well as improving the conditions for women and girls generally, two speakers close to the issues addressed the audience: Nkechi Ogbodo, president and founder of Keichie's Project, a New York based nonprofit organization dedicated to empowering underprivileged and under-represented girls in Nigeria to reach beyond their poverty, gender and cultural limitations, and Nnenna Agba, an international model and activist, finalist on "America's Next Top Model," spokesmodel for MiaDonna Diamond Hybrid and spokesperson for Keichie's Project.
Keichie's Project was the organizer of the May 10 rally at the Nigerian embassy, which was attended by Mayor Bill de Blasio and the Rev. Al Sharpton, that aimed to bring awareness and pressure the Nigerian government to do everything in its power to bring the girls back. On an ongoing basis, Keichie's Project provides educational scholarships in Nigeria while providing mentorship opportunities to girls in Harlem.
"We know when girls are educated and empowered they become scientists, educators, CEOs, doctors, lawyers and phenomenal mothers that raise the standards for the next generation of girls and who positively impact their family, their country and the global community," stated Ogbodo.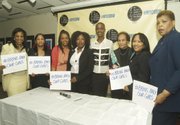 Agba, who was born in the U.S. to Nigerian parents and spent part of her childhood living in Nigeria, emphasized the importance of cross-cultural relations. "Women in Africa need mentors in the Western world to show them a cultural alternative. Education alone will not do it. For even when they are educated, they more often than not fall victims to cultural beliefs and practices," she said.
The introduction and Q&A was facilitated by Laura Green, chairwoman of the Coalition Arts and Culture Committee, and Abaynesh Asrat, a coalition member and also founder and president of Nation to Nation Networking, a not-for-profit organization that provides health, education, socioeconomic development and self-reliance programs in developing countries. Avalyn Simon, president of the New York Coalition of One Hundred Black Women, said, "I was extremely pleased that the coalition was able to organize this program around a very timely issue. Our goal at the coalition is to keep our members and the community informed and educated about issues of significance to women both here in the U.S. and internationally. This current situation in Nigeria presented an opportunity to bring awareness to some of the issues facing women and girls globally."
Members and guests left feeling empowered and pledging to do their part to help fight injustices facing women around the world.
The New York Coalition of One Hundred Black Women is the founding chapter of the Coalition of One Hundred Black Women, which was founded in 1970 in New York City. It is a 501c (3) not-for-profit organization, which, over the past 40 years, has advocated on behalf of women and their families, and through its programs and activities aims to improve the lives of women and girls.