Baseball Hall of Famer, Tony Gwynn, dies at age 54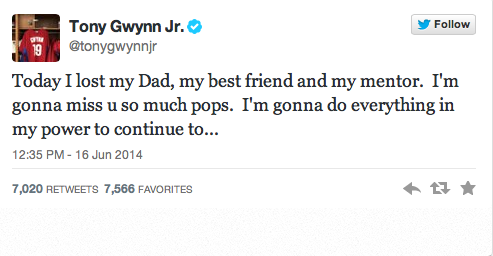 Baseball Hall of Famer, Tony Gwynn, has died from cancer at age 54. He was known for chewing tobacco for many years.
"He was in a tough battle and the thing I can critique is he's definitely in a better place," said John Boggs, his agent to The Associated Press. "He suffered a lot. He battled. That's probably the best way I can describe his fight against this illness he had, and he was courageous until the end."
Gwynn joined the San Diego Padres in 1981. He played for them his entire professional career of 20 years, granting him the nickname "Mr. Padres".
He was one of the best hitters in the game and an eight-time National League batting champion. Gwynn also helped bring the Padres to their only two World Series appearances in 1984 and 1998.
Gwynn was inducted into the Baseball Hall Of Fame in Cooperstown in 2007.