Africa's last monarch risks loss of trade deal with U.S.
6/18/2014, 11:12 a.m.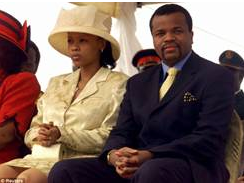 Jun. 16 (GIN) – The perks of being King Mswati III may be the last straw for a U.S. trade deal that gives developing countries the rich benefit of duty-free access to U.S. markets.
Swaziland is edging toward suspension from the US preferential trade agreement known as AGOA (African Growth and Opportunities Act) because of the King's failure to enact democratic reforms. Loss of U.S. markets could cost thousands of workers their jobs in a country where unemployment now tops 40 percent.
Under AGOA, African governments must show progress in enhancing democracy and human rights and upholding fair labor practices.
Among his many perks, including marriage with 15 virgins, each receiving a palace, the King can raise his annual household budget at will. This year it was increased by more than 10% to $61 million. His personal fortune is estimated at about $200 million.
The small kingdom surrounded by South Africa is one of the poorest nations in southern Africa, with more than 60% of the population of 1.2 million living on less than $1 a day.
Swaziland's credentials for AGOA were recently questioned because the country practices "Tinkhundla" – a non-political party system where positions are filled on merit, not popular votes. Further, AGOA requires minimal government interference in the economy but in Swaziland, the government controls the price of bread, sugar, fuel and owns big companies, land, livestock and farms.
A stinging open letter to King Mswati signed by Nobel Prize laureate Archbishop Desmond Tutu, universities and NGOs, scolded the King for "disregarding legal procedures and basic human rights" and warned of "lasting damage to your country's standing with potential international investors and ....economic and political isolation," if there was not change and dialogue.
The U.S. Dept. of Labor faults the kingdom for failing to provide free education after grade five. "Children engage in the worst forms of child labor," the Department wrote in a recent report, "picking cotton, cutting sugar cane, using dangerous tools, carrying heavy loads and applying pesticides."
Lobbying is reportedly underway in the U.S. by the AFL labor federation to "delist" Swaziland because of its violations of labor rights.
Other countries once suspended from AGOA include Guinea, Madagascar and Niger. All have since been restored.
"Government is playing politics with our lives," Angela Dlamini, a garment worker at the Matsapha Industrial Estate near the commercial city of Manzini, told the IRIN news agency.
"I have two children, aged two and five. We live in a one room flat with a toilet and a water tap in the yard. My family helps me feed and clothe my children, because I earn so little. But we will starve without my job," she said. Dlamini earns about $75 a month from her factory job.
"If we are to continue working we must be paid more," Thab'sile Magongo, a seamstress at a Matsapha factory, told IRIN.