First lady of African-American stage and screen, Ruby Dee, dies at 91
Herb Boyd | 6/18/2014, 9:44 p.m.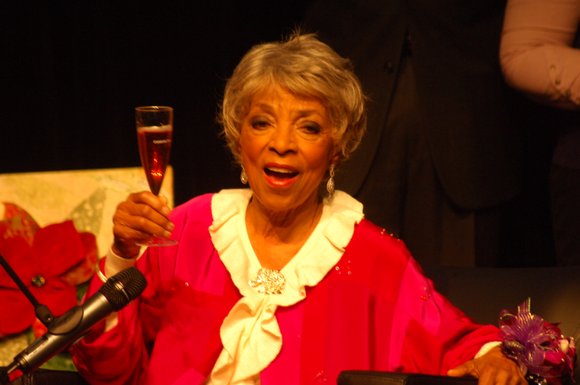 Ruby Dee, the first lady of African-American theater and film, made her transition last Wednesday, June 11, at her home in New Rochelle, N.Y., according to Arminda Thomas, the archivist for Dee-Davis Enterprises. Dee was 91 and the cause of death was not disclosed.
When poet and publisher Haki Madhubuti called me, I had a premonition that the news was not going to be good. He had been summoned by the family to be with Dee in what they presumed to be her final hours. Madhubuti had just arrived back home to Chicago after visiting with Dee when he heard that the eminent actress had joined the ancestors.
"She and Ossie Davis were always very helpful and generous whenever I called on them," Madhubuti said. "They were special people, not only to me, but to the world." Davis was 87 when he died in 2005.
They were indeed a remarkable couple who were inseparable on and off the stage and screen. And the same sense of commitment and grace they devoted to their craft was prevalent when they attended political events, where they were often called upon to serve as emcees, panelists or just to march arm-in-arm.
Dee was a part of the stage and screen for so long that it's hard to remember when she first commanded our attention. There is even some uncertainty about her birth date, whether it was Oct. 27, 1922, or Oct. 27, 1924.
What is clear is that she was born Ruby Ann Wallace in Cleveland and moved with her family to Harlem when she was very young. In their combined memoir, "With Ossie and Ruby: In This Life Together," they alternate their voices as they recount their years together. In the book, we get a glimpse of Dee's early years, when she was fascinated by film, particularly cowboy movies starring her hero Tom Mix.
"I was short, skinny, and rusty," Dee recalled of herself as a youth, which she said was in stark contrast to her beautiful sisters.
This was a clear underestimation of her loveliness, which was quickly overshadowed by her prowess as an actress. That became evident once she became a member of the American Negro Theater (ANT), located in the basement of the building that would later become the Schomburg Center. The outstanding actors and teachers Abram Hill and Frederick O'Neal were the kingpins of ANT, and it was a proving ground for Dee, Sidney Poitier, Harry Belafonte, Hilda Simms and hundreds of others.
Dee's father worked on the Pennsylvania Railroad as a waiter and cook, and her mother was a teacher, so Dee's early years were fairly stable. (Dee was a name she adopted from the middle name of her first husband, Frankie Dee Brown.)
In 1945, the same year she and Brown divorced, Dee earned her degree in romance languages from Hunter College. A year later, she had a bit part in a play called "Jeb" about a Black soldier returning from World War II and his struggle against the forces of racism and the Ku Klux Klan. Jeb was portrayed by Davis, and this may have sparked their lifelong relationship. They married in 1948. Two years later, Dee starred with Jackie Robinson as his wife in his biopic.