Caribbean Tourism Organization honors Jamaican tourism stalwart
6/19/2014, 12:59 a.m.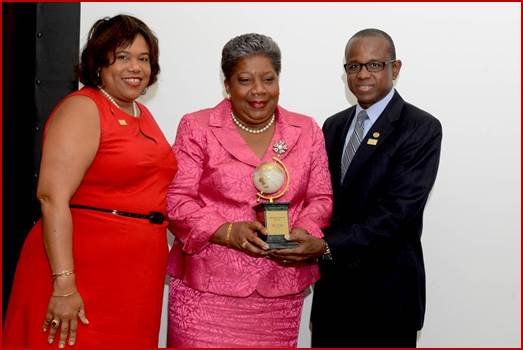 Jamaica's first female director of tourism, Carrole Guntley, is the recipient of this year's Lifetime Achievement Award, the Caribbean Tourism Organization's  most prestigious honor. Guntley was presented with the special award during the Allied Awards Luncheon at the Wyndham New Yorker Hotel on Friday, June 6.
The Jamaica Tourist Board (JTB), in saluting Guntley, who led the agency between 1984 and 1990, described her as a regional tourism stalwart most deserving of this recognition. With almost four decades of service to tourism in Jamaica and the Caribbean, Guntley has established an international reputation for innovation and leadership in the field. It was during her tenure as Jamaica's tourism director that the island achieved the landmark target of welcoming 1 million visitors in a calendar year.
"Carrole is a respected and tireless advocate for Caribbean tourism and especially for Jamaica," noted Dennis Morrison, chairman of the Jamaica Tourist Board. "She is truly deserving of this latest accolade. We extend our sincere congratulations to her on this significant honor."
Guntley was also responsible for developing the first Tourism Teacher's Guide and pictorial map of Jamaica for schools and launched the island's premier tourism trade show—the Jamaica Product Exchange. Her career with the Jamaica Tourist Board dates back to the early 1970s while she attended the Ryerson Polytechnic Institute in Toronto. Up until 1978, she worked summer and vacation jobs with the organization, both in Jamaica and Canada. Her various positions included telephone communications operator and administrative assistant in the product department.
Her contribution to Jamaica's tourism has not gone unnoticed, and in addition to her numerous citations and awards, Guntley is a recipient of the Order of Distinction, Commander Class, presented by the government of Jamaica. She most recently served as director general in Jamaica's Ministry of Tourism and Entertainment.
Her impact on tourism spans the entire region, as she has served as area manager for Jamaica, St. Maarten and Western Caribbean for British West Indies Airways and European Marketing Manager for the Caribbean Tourism Organization (CTO).
"What a privilege and a pleasure it is to be able to honor Carrole Guntley with the Lifetime Achievement Award." said Hugh Riley, the CTO's secretary general. "This is just a small way of saying 'thank you' to Guntley for the tremendous contributions she has made to the life of CTO and to Caribbean tourism in general. Congratulations, Carrole. It's well deserved."