D'Angelo's Resort '15 looks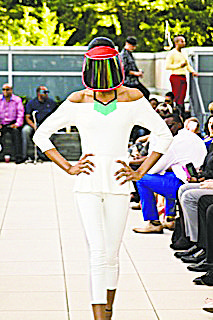 Edwing D'Angelo's 2015 Resort collection looks smashing, especially because his show was held in a space overlooking Central Park North in Harlem. Many spectators were awed to view his collection, called "The Pedigree of the New Blue Blood Lineage."
His designs were inspired by the young, affluent professionals that are looking to establish themselves in the new world. His emphasis was on masculine sexuality and the vogue for fitted pants.
The jumpsuit is back, along with fitted walk shorts and sleeveless tees. Men's dress pants feature newer details. For the female, D'Angelo stays somewhat minimalistic. The body becomes the protagonist, inviting the lady to explore a more revealing, see-through wardrobe for this season.
Resort 2015 will be for a time when women can have fun dressing up in evening ensembles so as to keep swimwear on display. Here, sun-cover caps were shown in a variety of colors. Dress lengths vary from above to below the knee. There were thigh-high splits on pants and long V-line necklines on tops.
As for color, D'Angelo selected solid blue hues. His white garments and softer print styles are great for those getaways, tropical vacations on the ocean, boardwalks, sandy beaches and the countryside. His clothes maintain his signature class and distinction in style.
The collection is made up of mostly Italian cottons, silk chiffon, mesh, double face jersey, silk satin and light tropical wools. His details included hardware like zippers.
D'Angelo had one more surprise for the show: He had all the models wear visors made by V. Stiviano. A roar of cheers were let out when the crowd saw the display. The show left everyone in the audience anticipating his spring 2015 collection.
D'Angelo is a young, chic and fashionable Columbian-born New York fashion designer who has emerged through mainstream America. His work has been highlighted in various publications and highlighted in the Hollywood hit movie "The Devil Wears Prada," starring Meryl Streep. He stays busy styling several celebrities, including Marc Consuelos, actress Laurie Metcalf, Winona Judd and others. His work has also attracted the hippest celebrities, like Lil' Kim, Patti LaBelle, Vivica Fox, Sean Paul, Mo'Nique and CBS anchorwoman Shon Gables. His designs are fabulous!
Good Show!