Mafrika Music Festival Kicks Off a Harlem Summer
Kathleen M. O'Donnell | 6/19/2014, 3:58 p.m.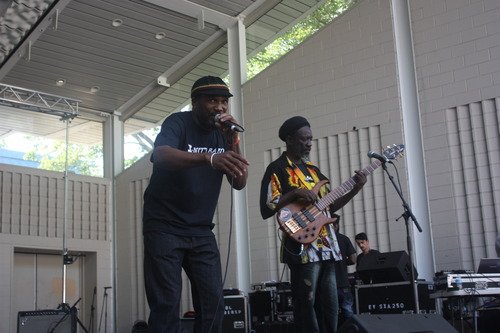 On Sunday, June 15, small crowds gathered to hear music of the motherland at Marcus Garvey Park's Richard Rogers Amphitheater. The 8th annual Mafrika Music Festival was hosted by Burkinabé Entertainment, a small company dedicated to promoting and developing African Art & Culture in the United States. Sunday's eight-hour concert was the culmination of a weekend packed with concerts at infamous Harlem venue Shrine and it's sister restaurant, Silvana.
Afrobeat band Osekre and the Lucky Bastards and Reggae specialists Crucial Bridge and the Inity Band brought down the bandshell while Harlem residents danced and sang along. In addition to the music, Silvana doled out delicious eats, local artisans sold hand-crafted jewelry and New York City Council Faith Based HIV/AIDs Initiative provided rapid HIV testing.