Remembering Ruby Dee and Little Jimmy Scott
Jazz Notes
Ron Scott | 6/19/2014, 8:28 a.m.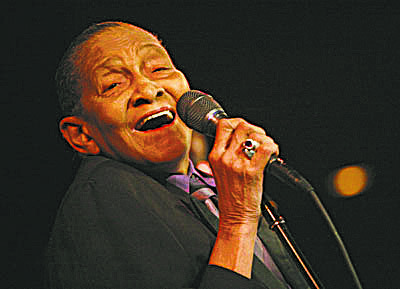 Upon hearing of Ruby Dee's death at the age of 91 on June 11, I was saddened. I quietly remembered my mother who loved the actress. "I love me some Ruby Dee," she would often say.
The love for Dee was shared by the Black community and beyond. During the recent Tony Awards presentation, Audra McDonald, in accepting her sixth award for her portrayal of Billie Holiday in "Lady Day at Emerson's Bar and Grill," humbly stated, "I stand on the shoulders of such great Black women as Ruby Dee, Maya Angelou, Lena Horne, Diahann Carroll and, of course, Billie Holiday."
Although it was noted that Dee very seldom played the lead role, she had an unrelenting stage presence, a sincere soft voice full of concern that pulled the audience into her characters, keeping one captivated until the end and always returning for more.
She appeared in two of Spike Lee's films, "Do the Right Thing" and "Jungle Fever," in which she played a devoted wife trying to keep the peace between her religiously strict, Bible-quoting husband (played by Ossie Davis, her real-life husband of 57 years) and two sons, one a drug addict (played by Samuel Jackson) and the other an architect (played by Wesley Snipes). While the focus was not on Dee, it was intriguing to see how her character would navigate the family's volatile relationships.
After graduating from Hunter College in the mid-1940s, she continued acting at the American Negro Theater, which produced plays in the basement of the New York Public Library's Harlem branch.
She was the first Black actress to appear regularly in major roles such as Cordelia in "King Lear" and Kate in "Taming of the Shrew" at the American Shakespeare Festival in Stratford, Conn. In 1968, she became the first Black actress to have a regular role in a primetime TV series when she appeared on "Peyton Place."
Some years ago, I had the opportunity to interview Dee. At the time, she was on set doing a commercial. I was very nervous interviewing the great Ruby Dee. Approaching me, she stated, "I'm honored to meet you." I mumbled something about being a great fan and loving her acting, but her voice was a calming force that settled me down.
She was multitasking on the set, so we kept being interrupted. Once, upon her return, she said, "It's sweet of you to be so patient." At that moment I just wanted to pack up and go to heaven—what else is left after Ruby Dee declares you to be sweet?
As for her roles, she noted she just chose the ones that felt right to her, saying, "In life you have to do what you feel is right."
The current revival of "Raisin in the Sun," now playing at the Ethel Barrymore Theater on Broadway (the same stage as the original production), won three Tonys, including one for Sophie Okonedo, who plays Ruth Younger. In 1959, Dee originally played the role of Ruth with Sidney Poitier as Walter Lee Younger. Earlier, in 1950, she played Rachel Robinson, Jackie Robinson's wife, in the "Negro" film based on the life of Jackie Robinson, who played himself.