Community Risk and Resiliency Act Passes in the State Assembly and Senate
Nia Sanders | 6/20/2014, 4:02 p.m.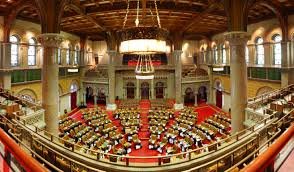 The New York State Assembly and Senate passed the Community Risk and Resiliency Act on Thursday in response to the recent extreme weather events and the impact it has had on New York residents.
Several people have complained about the slow response to fixing the conditions of New York City post- Hurricane Sandy. In April, Mayor de Blasio agreed to $100 million in federal funding to the Build it Back Program.
This program is geared towards people with low or moderate incomes who need better housing and economic opportunities. Repairs are made to damaged property. Homeowners are granted buyout or redevelopment for damaged property and reimbursed for out-of-pocket repair or rebuilding expenses.
Concerned New York City Housing Authority residents were unhappy with the slow recovery efforts of Hurricane Sandy. so they spoke out about it on the City Hall steps in April. The homes faced ongoing physical damage and the homeowners called for better access to economic opportunities.
The Community Risk and Resiliency Act requires state agencies to prepare for these events by collaborating with New York municipalities.
By 2016, the Department of Environmental Conservation will create legislations that will established science-based sea level rise projects.​