SMITH & WESSON OFF THE HOOK FOR ARMS TO AFRICA BRIBE DEAL
6/24/2014, 12:27 p.m.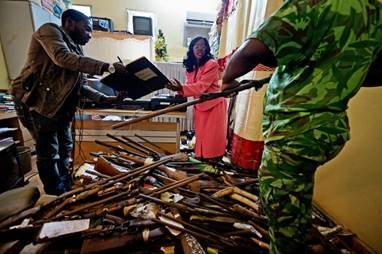 Jun. 23 (GIN) – After a whirlwind round of dinners in fancy hotels, Smith & Wesson's Vice President of Sales was one of a group of arms dealers in a congratulatory mood after winding up what they thought was a major weapons sale to an African leader.
To get the deal, worth $15 million, all the dealers – top-level execs - agreed to pay a 20 percent "commission" even after being told that half would go into the pocket of the defense minister of Gabon.
"It's got to go to someone," said Pankesh Patel in response to that information. His company, Quartermaster, was to supply the uniforms.
The arms dealers greenlighted the bribe in a trail of e-mails and checks.
But the alleged representatives of the Gabonese defense minister were undercover agents working for the FBI. Twenty-two arms dealers were placed under arrest.
All but one of the dealers were nabbed in Las Vegas, where they were attending the Shooting, Hunting, Outdoor Trade Show and Conference, known as the SHOT Show, billed as "the world's premier exposition of combined firearms, ammunition, archery, cutlery, outdoor apparel, optics, camping and related products and services."
The Justice Department called the indictments against the dealers "the largest single investigation and prosecution against individuals in the history of the DOJ's enforcement of the Foreign Corrupt Practices Act – a law that prohibits American citizens and companies — and, since 1998, foreign citizens and companies acting in the United States — from bribing foreign government officials to get or keep business."
"Corrupt payments to foreign officials to obtain or retain business erode public confidence in our free market system and threaten to undermine foreign governments," said U.S. Attorney Channing Phillips. "These indictments … reflect the Department's commitment to aggressively investigate and prosecute those who try to advance their businesses through foreign bribery."
Amaro Goncalves, 49, vice president of sales for Smith & Wesson, was among those named in the DOJ release. They faced prison terms of up to five years, while the money laundering conspiracy charge carries a prison term of 20 years.
Now, four years later, most of the cases brought to trial have collapsed in hung juries or dismissals. Three have pled guilty. The investigation by the Justice Department has ended in failure, Smith & Wesson is off the hook and Goncalves has left the company.
"We have made substantial changes in our foreign sales personnel and foreign representatives, modified our processes, and ceased sales in certain foreign countries," said the gun manufacturer, spending over $2 million in related costs. A case against the company by the Securities and Exchange Commission (SEC) however is still pending.
Meanwhile, former assistant attorney general for the criminal division, Lanny A. Breuer, who brought the new initiative for the Justice Department, now works as vice chair for a Washington DC law firm handling white collar crime.