The 43rd International African Arts Festival kicks off July 3
6/26/2014, 2:41 p.m.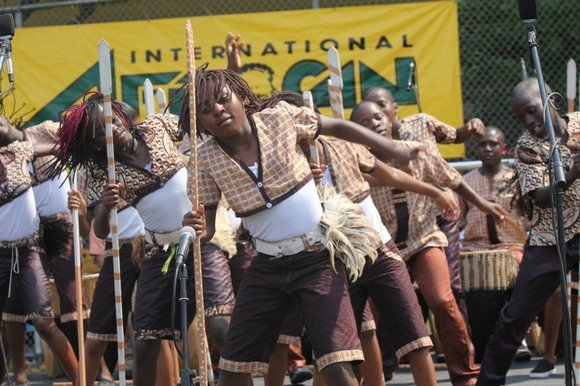 The board of directors, staff and volunteers of the International African Arts Festival (IAAF) just hosted their press conference and reception to launch the 43rd annual festival at the Skylight Gallery in Brooklyn. The Mix-n-Mingle featured artists, organizers, vendors and sponsors as they prepared to celebrate four days of African culture and shopping at the Arts and Crafts Marketplace July 3-6, 10 a.m.-9 p.m. Rain or shine at Commodore Barry Park, Fort Greene, Brooklyn (Navy Street between Park and Flushing avenues).
Daily Schedule
Thursday, July 3
"Third World: In Tribute to Reggae and Bunny Rugs"
Rasta poet Yasus Afari
CPR Reggae Showcase
Phillip Jennings the Magician
Elder Recognition Day Award Presentations (3 p.m.)
Natural Hair Show
Friday, July 4
Earthman Experience Band
Donald Smith All-Stars
A surprise Latin band!
Frederick Douglass' Fourth of July speech performed by Rome Neal
Tracy V. Pierre's "Poetry in Motion"
A Black Spectrum Theater Company production on Black youth issues
Fashion Show
Saturday, July 5
Akua Allrich
International Electric Transfusion Band
"Harriet Tubman: A One-Woman Theatrical Performance" by Beareather Reddy
25th annual NAKO Symposium on "Culture, Community and Struggle," 10 a.m.-4 p.m. at P.S. 287, located at 50 Navy St.
panels on education, health, mental wellness and more!
Universal African Drum and Dance
Chemas Ahmed
MAUSA Martial Arts Demo
Ifetayo Youth Ensemble
The annual IAAF Parade
(For the parade, assemble at 12 p.m. at Fulton Street and Vanderbilt Avenue in Brooklyn. Depart at 1 p.m.)
Fashion Show
Sunday, July 6
Awo Sangho ("The Golden Voice of Mali")
Tribute to Nana Kimati Dinizulu and John Watusi Branch
Dinizulu Dancers, Drummers and Singers
Tschaka Tonge Experience
Medgar Evers College Dance Ensemble
Glen McMillan and the Imani Singers
Natural Hair Show
Daily activities and features include an African Marketplace; Arts & Crafts Zone; and cultural, family, youth and children entertainment.
For more information, call 718-638-6700 or email us at info@iaafestival.org.