The architects of the Central Park Five debacle: Where are they now?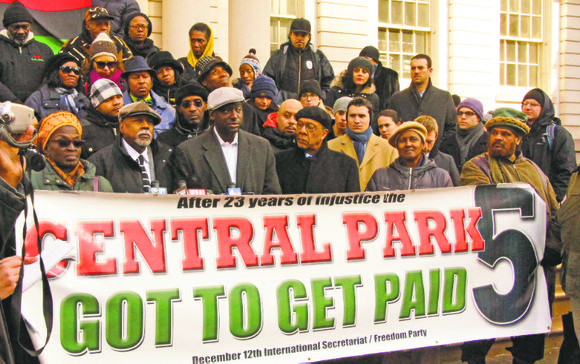 Antron McCray, Kevin Richardson, Yusef Salaam, Raymond Santana and Kharey Wise have seen justice in the form of a $40 million settlement with the city of New York over their wrongful convictions in the "Central Park Jogger" case from two decades ago. However, the young men haven't seen justice in the sense of getting their normal lives back.
But what about all of those in law enforcement and otherwise who helped put these men in prison in the first place? What are they up to? It looks like they're up to having successful careers and lives for the past 20 years.
Elizabeth Lederer, when not lecturing at Columbia Law School, is still an active prosecutor in the New York County District Attorney's Office, working as a senior trial counsel in the forensic/cold case unit, reviewing and reinvestigating unsolved murder and rape cases. For a while, Lederer's bio on Columbia Law's website touted her prosecutorial work on the "Central Park Jogger" case. When you go to the website today, it's nowhere to be found.
Attempts to contact her about the settlement were unsuccessful.
Linda Fairstein, who was the head of the sex crimes unit during the case, is now a New York Times bestselling crime novelist, whose recent book, "Terminal City," was released last week to rave reviews.
Attempts to contact her were unsuccessful as well.
Detective Mike Sheehan parlayed his raised profile from the Central Park Five case (and the Robert Chambers "Preppy Killer" case) into guest spots on the original "Law & Order" television show in the early 1990s, reporting gigs at FOX 5 NY and Channel 11 WPIX and helping NBC create a crime drama called "Prime Suspect" in 2011.
As of press time, the AmNews was waiting to hear back from Sheehan after contacting his desk at PIX 11 News.
Each experienced lucrative careers built off the backs of five young Black and Latino men who lost their freedom due to racially motivated fear and anger in a New York that many want to forget existed, though it can bubble back to the surface quickly.
Enter Donald Trump.
Trump famously paid for a full-page ad in the New York Daily News on May 1, 1989, calling for reinstallation of the death penalty for the five young men. Last Sunday, Trump returned to the pages of the Daily News with a guest editorial, calling the settlement "a disgrace," Trump suddenly caring about taxpayer money.
"Forty million dollars is a lot of money for the taxpayers of New York to pay when we are already the highest taxed city and state in the country," Trump wrote. "The recipients must be laughing out loud at the stupidity of the city. Speak to the detectives on the case and try listening to the facts. These young men do not exactly have the pasts of angels."
What about all the people who were so desperately hurt and affected? I hope it's not too late to continue to fight and that this unfortunate event will not have a repeat episode any time soon—or ever.
Trump forgot to mention some of those who were hurt and affected by the results: Trisha Meili for delayed justice, and McCray, Richardson, Salaam, Santana and Wise for losing their freedom and the prime of their lives due to a media- and law enforcement-fueled gang mentality.