Bratton told Upper West Side cops to stop homeless shelter raid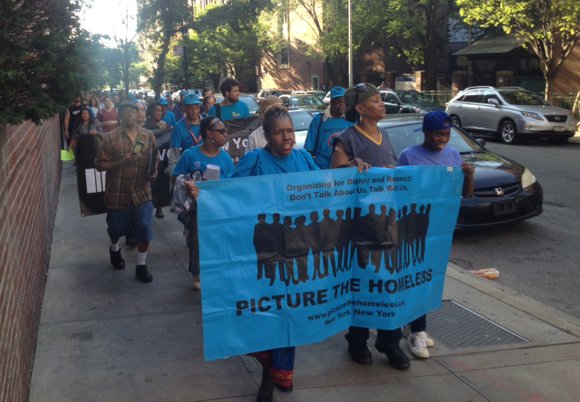 Weeks after officers from the 24th Precinct in the Upper West Side swept through the Freedom House, a residence shelter on West 95th Street run by the Department of Homeless Shelters, and promised to conduct more raids after arresting 22 people, NYPD Commissioner Bill Bratton told the cops to end the practice.  
The arrests were "well intended, but it's something that I'm not supportive of. I got concerned about the idea of going into the shelter to serve various warrants ... That practice at that precinct has ended," Bratton told reporters at a press conference last Wednesday, June 18.
His announcement came a few hours before the start of a planned protest outside the Freedom House that was organized by the Bronx-based nonprofit Picture the Homeless.
Supporters and members of the nonprofit group declined to call off the protest. They convened outside the shelter and then marched down Broadway to a community council meeting at the Bloomingdale branch of the New York Public Library to discuss "effective community-based solutions" and the implementation of a safe surrender program.
The meeting was led by Capt. Marlon Larin, commanding officer of the 24th Precinct, who spearheaded the raid. Larin stated that "there won't be any more operations" and that he was informed by a superior officer about Bratton's command.
Larin defended his May 23 4 a.m. operation and argued that he had no other choice than to operate the raid with the cooperation of the Department of Homeless Services because the 22 residents who were arrested have outstanding court warrants.
He also asserted that he chose to raid the shelter at that time in the morning because "that's the time we expect they would be home."
Residents argued that the pre-dawn operation has disturbed other residents who live in the shelter.