For the 'Central Park Five,' a settlement long overdue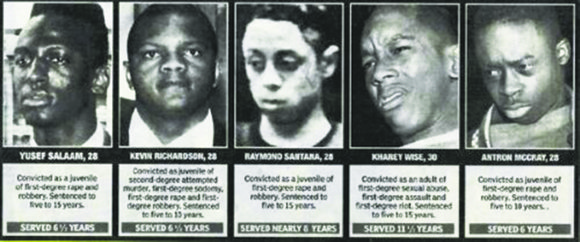 For several years, too many in fact, five African-American and Latino young men languished in jail. They missed family events, important developments in the lives of their communities and time with loved ones. Their lives were completely and irrevocably torn apart after they were wrongfully convicted for the attack and rape of a jogger in Central Park in 1989.
A compelling documentary by Ken Burns and his daughter Sarah Burns and filmmaker David McMahon made the case that the New York City Police Department, coupled with prominent figures like Donald Trump, contributed to the hysterical public reaction regarding urban crime that played a role in the conviction of the five teenagers, who have become well‑known nationally as the "Central Park Five." By 2002, the Manhattan district attorney's office concluded that the five men had been wrongfully convicted and that they were not responsible for the 1989 attack. They were subsequently released.
Even though the convictions were overturned, the five young men—Kharey Wise, Kevin Richardson, Antron McCray, Yusef Salaam and Raymond Santana Jr.—had experienced needless prison terms that had them serving between seven and 13 years behind bars.
Recently, Mayor Bill de Blasio took the action he had discussed during last year's mayoral campaign and had his administration reach an agreement to pat roughly $40 million, representing about $1 million for every year each man was incarcerated. The agreement must still be approved by New York City Comptroller Scott Stringer, as well as by a United States District Court judge. Both should sign off on this arrangement as soon as possible to bring this harsh blemish on justice in New York City to an end.
The mayor's action is a welcomed reversal from the position long held by his predecessor, Michael R. Bloomberg, who defended the officers, prosecutors and law enforcement process. Nothing wrong had been done, Bloomberg insisted, even though so many lives had been broken and shattered.
What is most amazing to me is the spirit of these young men, who are now far more seasoned, regarding this horrid episode of their lives. In the course of the last year, I have spent a good deal of time around Salaam, who was a teenager when he was convicted in 1989 is now a wireless administrator with a health care company.
Salaam is a frequent public speaker on the subject of the case and is remarkable for his upbeat perspective and determination to be a voice of encouragement to young people. Since the documentary was produced, he has achieved a level of celebrity, serving as a symbol of how one man, through unspeakable adversity, can emerge and develop a captivating perspective beyond his misfortune.
From his years in jail and release, he told me that the most significant lesson he has learned is how frequently young men of color are perceived to be guilty of criminal behavior.
"The biggest lesson is that, even though people do it all the time, though, you shouldn't judge a book by its cover," Salaam told me some time ago. "I would like to see people be a little more skeptical of what they see in the media. Not everything you see or read in the media is true. If everything doesn't add up in a case, people have to learn to ask questions and to be skeptical."
Indeed so. Now it's time for the city to put an end to this chapter of a sordid and shameful piece of history.