Court ruling keeps Interfaith Medical Center alive
By EULENE INNISS | 6/26/2014, 10:30 a.m.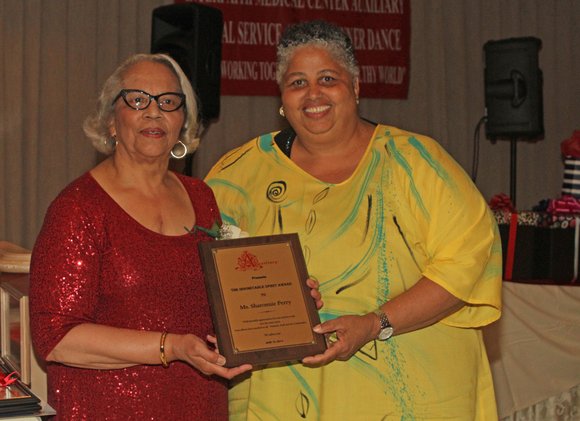 The embattled Interfaith Hospital has, like the phoenix, risen from its ashes, and unlike the ongoing turbulent battle surrounding Long Island College Hospital, the dark cloud of uncertainty that once overshadowed Interfaith Medical Center in Bedford-Stuyvesant has finally dissipated. On Thursday, June 19, Interfaith Medical Center Auxiliary held its 21st annual Service Awards Dinner Dance at the magnificent El Carib Country Club in the Mill Basin section of Brooklyn to commemorate the workers' many years of community service and the recent court ruling that has given the once bankrupted hospital a new beginning.
There was a contagious giddiness among those in attendance. The scars and fatigue of the long struggle that started one hot summer day in 2013 has resulted in victory. To top off the evening, award recipients received recognition from almost every elected official who stood with the hospital workers in their struggle. Officials sending awards included Brooklyn Borough President Eric Adams; state Sen. Velmanette Montgomery; Assemblymember Annette Robinson; Public Advocate Letitia James; and Council Members Darlene Mealy and Robert Cornegy. There was a combined total of 162 years of service among recipients, ranging from those with 37 to 43 years of dedication.
Retired Assistant Head Nurse Cheryl Beckles, who migrated from Barbados, was honored for her 37 years at the hospital. She recalled her humble "start in the custodial care division, and through opportunities for continued education and a desire to succeed, I rose to my position," she proudly acknowledged.
Under the restructuring mandate, Interfaith now has a new temporary operator, Melanie L. Cyganowski. She was formerly a chief judge in the Eastern District and has handled numerous bankruptcy cases during her 14 years on the bench. Said Cyganowski, "Today, Interfaith is officially out of bankruptcy … and under our new slogan, 'It's a New Day,' I urge the community to come to Interfaith, because we will take good care of you and we care."
Gwen Lewis has been promoted to the position of chief nurse, and she will work with the team "to move the hospital to a Magnet status, the highest level of performance as outlined by the American Nurses Credential Center, through improving the many current programs, including the Atlantic Men Shelter unit, out patient care, cycle cell program, geriatrics and mental health care."
Steven R. Korf, the new president and chief executive officer, is looking forward to his role at Interfaith. "Through the educational process, I will go into community schools and other establishments to discuss proper health care. The state is encouraging health care providers to collaborate with other institutions to address grassroots initiatives. The best way to avoid emergency room reoccurrences and high operating cost is to encourage primary care," he said.
Interfaith has snatched victory for the community from the jaws of defeat, and longtime resident and community activist Sharonnie Perry, who was the banner carrier in the struggle, seemed the proudest of them all. She recalled the initial long marches and rallies that gained the support of local politicians and the Rev. Al Sharpton's National Action Network.
Perry has become a voice for the community. She has earned their trust, and with the restructuring of Interfaith, she is now the community relations person.
Perry was the recipient of the Indomitable Spirit Award, and her mission is to "get the entire community even more involved in the hospital by building bridges and letting all residents know that the hospital is open forever. I will continue to inform them about the many services offered, like primary care, urgent care, dental and pediatrics, and I will network with churches, schools and health care providers and organizations."