The Lion Roars: Charlie Rangle wins re-election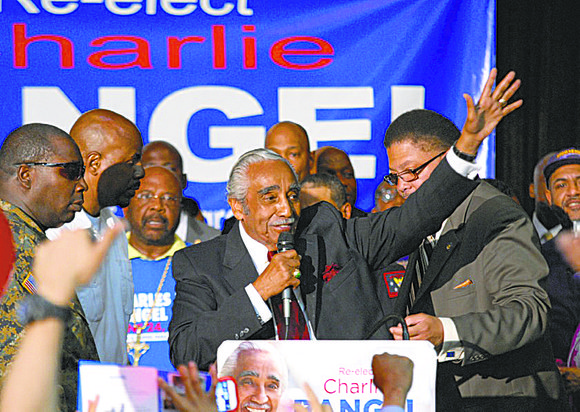 With 100 percent of precincts reporting, Rep. Charlie Rangel looked to have won re-election in New York's 13th Congressional District. Rangel won with 47.4 percent of the vote (22,674) and his challenger, New York state Sen. Adriano Espaillat, trailed him with 43.6 percent of the vote (20,846). Rounding out the primary, the Rev. Michael Walrond finished in third with 7.9 percent of the vote (3,768) and Yolanda Garcia finished a distant fourth with 1.1 percent of the vote (505).
"The chairman has won!" screamed Rep. Greg Meeks at Rangel's primary party in the basement gymnasium of Taino Tower in East Harlem. But had he?
In a rematch of the 2012 Democratic primary, Rangel, by many accounts, bested Espaillat again by a slightly larger margin than two years ago, when Rangel won by a mere 1,000 votes. New York's Congressional 13th District has been a historically African-American-dominated district, but a recent redrawing of said district included much of the Bronx. Many thought the shift would favor Dominican-American Espaillat, who felt that 2014 would be his time.
And he still thinks it's his time.
While the balloons fell down and the DJ played Pharrell's "Happy" at Rangel's primary party, Espaillat's people geared up for a fight, declaring the election to not be over. Despite the Associated Press even calling the election for Rangel, Espaillat and his handlers still hold out some hope.
According to the New York City Board of Elections, 980 valid absentee ballots have not been counted yet, with 738 from the Manhattan part of the district and 242 from the Bronx. The board revealed that a total of 3,436 absentee ballots (2,834 in Manhattan and 602 in the Bronx) were distributed, so the number is expected to grow into next Tuesday. The board also reminded everyone that affidavit ballots will be received through next Tuesday and will be opened the next day.
The board is hoping to avoid the same criticism that they received over how they handled a recount in 2012.

Under New York City law, a district-wide manual count can be triggered if the final margin separating the top two candidates is a half-percentage point or less. Unofficial counts began on Wednesday.
Earlier on Tuesday, Espaillat's campaign sent an email reminding voters and the media of the Board of Election's 2012 debacle. Espaillat released a statement after primary night reiterating their stance.
"As we learned in 2012, every single vote needs to be counted in this race," said Espaillat. "Given the thousands of votes outstanding, the people of Upper Manhattan and the Bronx deserve a full accounting of every vote to achieve a complete and accurate tally in this race."
While Espaillat fights the good fight, other candidates like Walrond were quick to congratulate Rangel on his re-election and tout their own campaigns for focusing on the issues that constituents cared about.
"Because of Mike Walrond's candidacy, New York's 13th Congressional District had the opportunity to hear a candidate who spoke on the issues affecting this community in real, substantive ways," the statement read. "We are extremely proud of the campaign we have organized, and Mike's visionary leadership will continue to impact our community through his work at First Corinthian Baptist Church."