Philly: More than meets the eye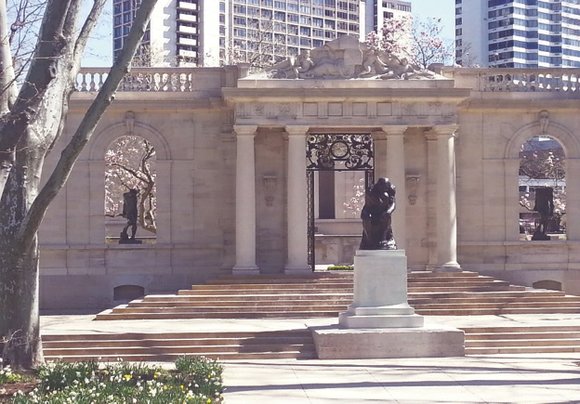 It's hard to capture the true essence of a city in one article, and even with this, the last of a three-part series on Philadelphia, there's so much more to tell about the city's fascinating early history, sites and attractions, Afrocentric points of interests, accommodations, culinary adventures and more.
Elegant Simplicity
In a city this size, you'll find numerous hotel chains like Lowes, Four Seasons, Omni, Marriott, Hampton Inn and Sheraton, plus local favorites like the Hotel Palomar, the Inn at Penn and the Rittenhouse Hotel.
We stayed at the Le Meridien. Located in the heart of Center City with striking views of City Hall, this architecturally stunning Georgian revival-style structure that formerly served as a YMCA has been transformed into a captivating and unique city gem that exudes European ambience and luxury at every turn.
The hotel encompasses beautiful millwork and graceful archways throughout, accented by bold color palettes, comfortable, oversized designer furniture, sleek and trendy tables, an open and inviting cocktail area and bar, and accoutrement including a fireplace, beautiful decorative chandeliers, eye-catching artwork, a dramatic entrance and seating areas that feel more like someone's home than a hotel.
Amuse, the hotel's bar and brasserie, is an intimate space for breakfast, lunch or dinner, and comfortable enough for business travelers yet warm and inviting for couples and families. The fifth floor features a fitness center and a spacious, comfortably furnished and relaxing 75-foot-high central atrium courtyard that also serves as the business center.
Le Meridien offers a very boutique ambiance that belies its expansive 10 floors and over 200 rooms, which is hard to find within the cacophony of a big city. The rooms are well-appointed and airy with sleek furniture with chrome accents, plush beds, and granite tile and glass-enclosed showers in the bathrooms.
On absolutely every level, from the concierge and doormen, to housekeeping, the wait staff, front desk, management and everything in between, Le Meridien is a wonderful experience, and all guests are treated with the utmost care, whether it's their first time or a repeat visit, making it one of the best hotels in Philly.
Museum Musings
From classic to contemporary art, history, the sciences, hands-on experiences and more, you'll find a wealth of outstanding museums and gallery spaces to feed your fancy. The Philadelphia Museum of Art is one of the largest and most renowned museums in the country, featuring over 227,000 artistic and architectural objects spanning a wide array of history, mediums and genres from the U.S., Latin America, Asia and Europe.
The Rodin Museum features one of the most comprehensive public collections of Auguste Rodin's work outside Paris, while the world's largest collections of impressionist, post-impressionist and early modern paintings are what you'll find at the Barnes Foundation.
The Pennsylvania Academy of the Fine Arts is known internationally for its collections of 19th and 20th century American paintings, sculptures and works on paper. Meanwhile, American Jewish history is the focus at the National Museum of American Jewish History.
One of the first hands-on science museums in the country, the Franklin Institute features a wide range of exhibits, a planetarium, live science demonstrations, an IMAX theater and the Benjamin Franklin National Memorial. The Academy of Natural Sciences of Drexel University possesses three floors of exhibit galleries and a collection of 18 million specimens, plus hands-on exploration of the natural sciences.