Reaction to 'Central Park Five' $40 million settlement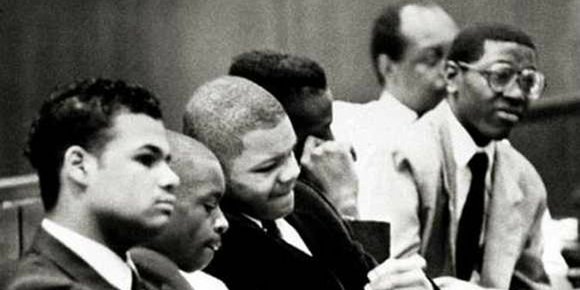 Twenty-five years after the initial miscarriage of justice, New York City is finally looking to settle with the "Central Park Five" for $40 million.
Five exonerated men, a host of lawyers and $40 million to divide between them all. The then 14- and 15-year-old teenagers who are now family men are Raymond Santana, Yusef Salaam, Antron McCray, Kharey Wise and Kevin Richardson. They spent between seven and 13 years in prison.
It is the case that has been called a "20th century up-south New York Scottsboro Boys miscarriage of justice" by one prominent New York attorney. Most people in the Black community are just delighted that this epically tragic saga has come to an end of sorts. Others are stressing that it is "cheap money."
However, nothing has been confirmed after news of the deal was leaked on Thursday.
For over a decade, attorneys including Michael Tarif Warren and Roger Wareham have been instrumental and very vocal in making demands that the city finally do the honorable thing and pay these young men. Likewise, former Assemblywoman and current City Council Member Inez Barron hosted a rally at the beginning of the year demanding that Mayor Bill de Blasio uphold his campaign promise and resolve the case.
"Given the mayor's unequivocal support of the settlement and his views that what happened to our clients constituted a real injustice—and Corporation Counsel Zachary Carter's agreement to the settlement amount—I would hope that Comptroller [Scott] Stringer would render a decision in the very immediate future," Warren told the Amsterdam News.
While announcing Carter as the city's new corporation counsel in December 2013, then Mayor-elect de Blasio declared, "We will settle the Central Park Five case because a huge injustice was done."
Responding to an AmNews inquiry, Nick Paolucci, a spokesman for Carter, said on Tuesday, "We are not commenting on the case," adding, "The litigation is still pending."
This week, Barron told the AmNews, "After attending numerous rallies, demonstrations and press conferences in support of the Central Park Five, we have gotten results. While there is not a dollar amount that could adequately compensate for the years of injustice that has been perpetrated on these young men and their families, the city has at long last concluded this portion of a horrific story. We must remain vigilant and always be willing to raise our voices against injustice."
"I'll just say broadly because, as you know, the settlement discussions are ongoing and this process has not been completed, so I'm going to speak broadly on purpose," de Blasio said on Monday. "I looked into this matter over the last year. I talked to a number of people I thought had a real perspective on it. Obviously, I particularly leaned on my Corporation Counsel Zach Carter, who, as you know, is a former U.S. attorney and incredibly respected in the law enforcement community of this town and the legal community of this town. And I think that the moral issue is quite clear, and obviously was made very real by the court decisions in recent years, and an injustice was done. We have a moral obligation to respond to that injustice.
"I think that the way we've proceeded was an understanding that, that had to be rectified in a way that made sense and a way that was mindful and careful, but I think we're on the right track."
Back in April 2014, Salaam told the AmNews outside a City Hall rally, "It has been said justice delayed is justice denied ... this has been the case. There was a speedy process to convict us; there has yet to be a speedy process of complete restorative justice. We have been patient; we want to finally move on with our lives and put this ugly nightmare to bed."
While the Rev. Al Sharpton had a jubilant Wise at his National Action Network rally on Saturday, the other men have kept a public silence. They are awaiting a nod from Stringer and a federal judge to sign off on the deal.
Stringer spokesperson Eric Sumberg told the AmNews, "The comptroller's office has received the proposed settlement between the city and the Central Park Five. As with all proposed settlements, under our charter-mandated authority, we will do our due diligence and provide feedback to ensure that any settlement we approve is in the best interests of the city."
On April 19, 1989, Trisha Meili, 28, was beaten and raped while she jogged through Central Park. She was in a coma for over a month and said she could not remember much of the vicious assault.
The four Black youths and one Latino youth were arrested. Interrogated for hours without representation, they said that they were coerced by the NYPD into confessing. This while a bloodthirsty, frothing-at-the-mouth mainstream media charged that the "wilding" "savages" and "animals" must be held accountable. At the same time, real estate mogul Donald Trump took out four full-page ads demanding the return of the death penalty.
Meanwhile, activists and attorneys like Warren maintained that investigators always knew that no DNA or any other evidence linked the five youngsters to the crime. In 2002, while serving a life sentence for rape and murder, Matias Reyes just happened to bump into Wise and confessed to the crime for which the young man was in jail.
Even though his DNA was a match and even after District Attorney Robert Morgenthau—the DA who handled the case originally—agreed the men should be freed, the likes of then Mayor Michael Bloomberg, former Police Commissioner Ray Kelly and lead prosecutors in the case like Elizabeth Lederer, Manhattan Assistant District Attorney Linda Fairstein and officer Mike Sheehan hung onto the claim that the five had to be involved.
In 2003, Richardson, Santana and McCray sued the city for malicious prosecution, racial discrimination and emotional distress. Bloomberg kept the suit in court for 12 years.
However, at the beginning of 2014, the signs of a conclusion became clear. U.S. Magistrate Judge Ronald Ellis stayed litigation in the case for 30 days, and Ken Burns' documentary "The Central Park Five" aired on TV and toured the nation. Public attention was focused on the case. Six months into 2014, and it is almost over.
Former City Council Member Charles Barron told the Amsterdam News, "Forty million dollars can never pay for the pain, suffering and the loss of the most critical youthful years of their lives." Echoing a feeling expressed by many—particularly after Trump wrote a column this weekend slamming the settlement—Barron continued, "Donald Trump, the police interrogators and the prosecutors should be arrested for defamation of character, false arrest and false prosecution. Heads should roll. I hope this brings some semblance of closure for my beloved brothers and their families. The struggle continues."
Meanwhile, former prosecutors Lederer and Fairstein have kept schtum. The two are represented by PR guru Alice McGillion, and when asked for a comment about the settlement, the ex-NYPD media spokesperson told the AmNews, "I do not believe the case is settled. Not sure when it will be or if they will have a statement at that time."