Reaction to 'Central Park Five' $40 million settlement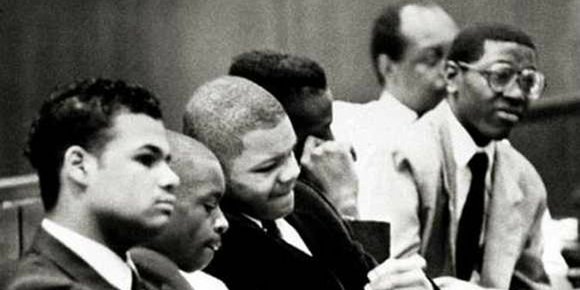 Twenty-five years after the initial miscarriage of justice, New York City is finally looking to settle with the "Central Park Five" for $40 million.
Five exonerated men, a host of lawyers and $40 million to divide between them all. The then 14- and 15-year-old teenagers who are now family men are Raymond Santana, Yusef Salaam, Antron McCray, Kharey Wise and Kevin Richardson. They spent between seven and 13 years in prison.
It is the case that has been called a "20th century up-south New York Scottsboro Boys miscarriage of justice" by one prominent New York attorney. Most people in the Black community are just delighted that this epically tragic saga has come to an end of sorts. Others are stressing that it is "cheap money."
However, nothing has been confirmed after news of the deal was leaked on Thursday.
For over a decade, attorneys including Michael Tarif Warren and Roger Wareham have been instrumental and very vocal in making demands that the city finally do the honorable thing and pay these young men. Likewise, former Assemblywoman and current City Council Member Inez Barron hosted a rally at the beginning of the year demanding that Mayor Bill de Blasio uphold his campaign promise and resolve the case.
"Given the mayor's unequivocal support of the settlement and his views that what happened to our clients constituted a real injustice—and Corporation Counsel Zachary Carter's agreement to the settlement amount—I would hope that Comptroller [Scott] Stringer would render a decision in the very immediate future," Warren told the Amsterdam News.
While announcing Carter as the city's new corporation counsel in December 2013, then Mayor-elect de Blasio declared, "We will settle the Central Park Five case because a huge injustice was done."
Responding to an AmNews inquiry, Nick Paolucci, a spokesman for Carter, said on Tuesday, "We are not commenting on the case," adding, "The litigation is still pending."
This week, Barron told the AmNews, "After attending numerous rallies, demonstrations and press conferences in support of the Central Park Five, we have gotten results. While there is not a dollar amount that could adequately compensate for the years of injustice that has been perpetrated on these young men and their families, the city has at long last concluded this portion of a horrific story. We must remain vigilant and always be willing to raise our voices against injustice."
"I'll just say broadly because, as you know, the settlement discussions are ongoing and this process has not been completed, so I'm going to speak broadly on purpose," de Blasio said on Monday. "I looked into this matter over the last year. I talked to a number of people I thought had a real perspective on it. Obviously, I particularly leaned on my Corporation Counsel Zach Carter, who, as you know, is a former U.S. attorney and incredibly respected in the law enforcement community of this town and the legal community of this town. And I think that the moral issue is quite clear, and obviously was made very real by the court decisions in recent years, and an injustice was done. We have a moral obligation to respond to that injustice.