In the press room at the Oscars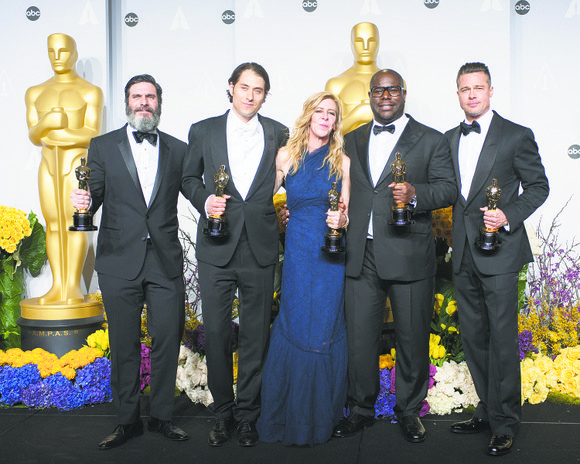 I am a cinephile, so there is no greater thrill than covering the Oscars.
The week leading to the big show was full of buzz about Steve McQueen's "12 Years a Slave" and the breakout performance of ingenue Lupita Nyong'o. Both would go on to win: "12 Years a Slave" won for Best Motion Picture of the Year; John Ridley won for Best Adapted Screenplay, and Nyong'o won Best Supporting Actress.
In the press room, I sat front and center with my seat in direct view of the stage mike.
As the wins for "12 Years a Slave" racked up, the press room went wild with congratulatory banter. The Oscars spirit was fueled in no small part by Jared Leto allowing me and other journalists to pass around the heavy trophy.
"Does anyone want to try it out for size?" shouted Leto. "I think I am the first person to ever give their Oscar away for an orgy in the press room."
By the time Nyong'o arrived, she had regained her composure and exhibited such a serene spirit that the world "regal" could have easily been stenciled above her head.
Holding our numbered placards aloft, the press corps lined up to ask the svelte Kenyan winner the logical question, "How does it feel?"
Nyong'o responded, "It's an honor to be a part of this journey. Steve McQueen has honored a people that has been unsung. I feel that their spirits have been honored."
In a deep, reflective tone, she further shared, "After I got this young man [referring to her heavy Oscar award], I had a moment with my father; he hugged me and he said, 'Thank you.'"
Backstage, the very tall winner Ridley gave credit to Solomon Northup's book, which was written in 1853 and was reviewed by Harriet Tubman and Frederick Douglass.
"The praise goes to Solomon because it's his words and his life," Ridley said. "He was an extraordinary individual, as are most people who have survived something like that."
Ridley is the second Black person to win Best Adapted Screenplay, and the combination of that with the fact that McQueen won for Best Picture makes it a unique footnote in the history of the Oscars.
"It's a thought," said Ridley. "My mother is a teacher and was very big into education, and I think of Solomon and his time—when to write his memoir in parts of the country was a death sentence. So to be able to stand here and adapt that—I'm very proud, I'm very humbled, and I'm very hopeful for the future."
Accepting the coveted Best Motion Picture honor were producers Brad Pitt, Dede Gardner, Jeremy Kleiner, McQueen and Anthony Katagas.
Gracious, sincere and intelligent love poured from the lips of the five producers. As I engaged my ears to search for pearls, I locked eyes firmly on the artists, meeting their eyes often.
"Thank you all," Pitt began. "Thank you for this incredible honor you bestowed on our film tonight. I know I speak for everyone standing behind me that it has been an absolute privilege to work on Solomon's story. And we all get to stand up here tonight because of one man who brought us all together to tell that story. And that is the indomitable Mr. Steve McQueen."