In the press room at the Oscars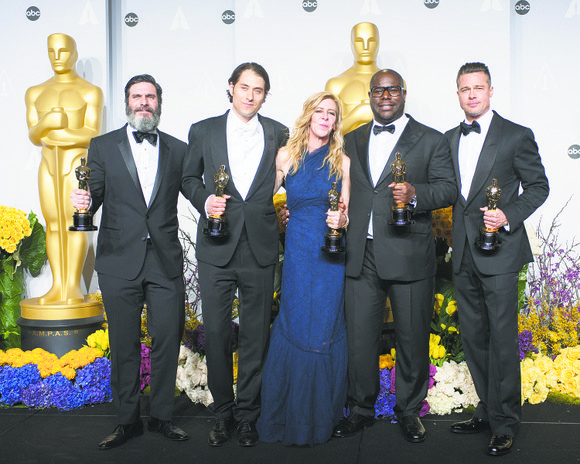 Taking the reins firmly, McQueen interjected, "Everyone deserves not just to survive, but to live. This is the most important legacy of Solomon Northup. I dedicate this award to all the people who have endured slavery, and the 21 million people who still suffer slavery today."
I asked a final question and addressed it to the producers assembled:
"As artists, what do you do to keep finding stories that deal with the humanity that we all share and also keep people of color learning and working, not just in front of the camera, but behind the camera? How do we keep that momentum going and continue what you guys are striving for?"
Pitt smiled at me and tuned to his producing partner Katagas to answer the question.
"I would just say that I think '12 Years' has had a wonderful reception around the world, not just in the United States, but in the rest of the world. And I think that that's a great development, because it suggests that the universality of the story is what's important," said Katagas.
"I think it's starting to kind of break down some of these ideological concepts of what is a domestic story, what is an international story, which kind of story is for what audience. And hopefully, this movie is not just an end in itself, but it's a means to the larger end that you're talking about.
You know, you work for a venerable newspaper that's been doing that kind of work for years, and we hope that we can be part of that trend for years to come as well."
Later that evening, I had a conversation with McQueen, with his Oscar firmly in his hand. We spoke about diversity above and below the line.
He said, "The Black newspapers are important. I am grateful that they supported this film from the beginning and have continued. Keeping the printed word afloat is important. Sharing our common humanity and sharing those stories in all ways is how we keep this glorious momentum moving positively forward."

As we parted for the evening, McQueen's limo gliding down Hollywood Boulevard right on cue, he turned with a smile and said loudly, "Thank you, and please thank your newspaper."