Saying goodbye and thank you to the 'judicial genius' Chokwe Lumumba
"I am eternally grateful that Mayor Chokwe Lumumba came from Mississippi to New York to be the keynote speaker at my inauguration in January," new Brooklyn Council Member Inez Barron told the Amsterdam News. "His words revealed his intelligence, integrity and undying commitment to improve the conditions of all people. He was both inspirational and encouraging. He will be sorely missed, but has left us a great legacy for us to uphold and continue."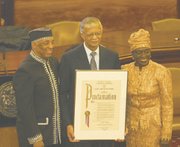 This weekend, there will be memorial and funeral services held in Jackson, Miss., in celebration of the life of the honorable Lumumba.
His sudden death on Tuesday, Feb. 25, sent shock waves throughout the Black political grassroots movement. Immediately, there were those who questioned the reported cause of death, heart failure. An independent autopsy was called for. Reportedly, world-renowned pathologist Dr. Michael Baden was asked to be involved. The AmNews was unable to obtain any reports of the result by press time.
"I extend my condolences to the family of Mayor Chokwe Lumumba in particular and to the entire activist community in general," Barron said. "With the passing of Mayor Lumumba, we have endured the great loss of an effective, faithful, longtime, tireless warrior. Mayor Lumumba is a model of what it means to move from grassroots organizing to being elected to the seats of power and responsibility in government and maintaining his authenticity and connection to the people. His vision of improving conditions for the people of Jackson, Miss., undergirded with the sound financial plan to achieve that objective, bears our close examination for duplication."
"I have the highest admiration and appreciation for Mayor Chokwe Lumumba. In a sense, he reminds me of Amiri Baraka, in that as Amiri put all of his genius to advance our struggles. Chokwe brought all of his judicial genius to advance our struggles as well," the Rev. Herbert Daughtry told the Amsterdam News.
Lumumba's body is scheduled to lie in state in City Hall at 11 a.m. There will be a Celebration of Life service at the Jackson Convention Center on Saturday, March 8 at 11 a.m., and the internment will occur immediately afterward at Autumn Woods Memorial Gardens in Jackson.
Daughtry recalled, "I was pleased to be with him recently at the inauguration of Council Member Inez Barron. He seemed so well. We shared laughter together as we conjured up war stories of the past. If only others in the legal profession would go and do likewise, or bring their talents to the cause of our people.
"He was a brilliant lawyer. He could have been rich and famous, but he chose to align himself and bring his prodigious talents to our struggle. It was not just our struggle, as commendable as [it is]. He aligned himself with the radical, Pan-Africanist, revolutionist and nationalist wing of our movement. He was vice president of the Republic of New Afrika, and he committed himself to the goal of relocating the Republic of New Afrika to the Southern United States.
"We will miss him very much. I extend my prayers and condolences to the family and hope that his legacy will be a full comfort to them."