Universal pre-K, charter schools battle for Albany's attention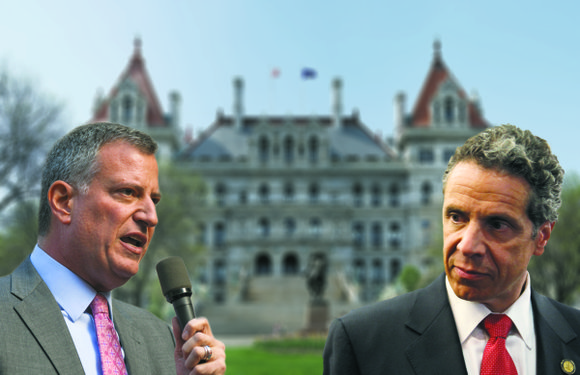 New York City Mayor Bill de Blasio has hit some roadblocks when promoting his education agenda, but he's sticking to his guns.
On Tuesday, the mayor and his supporters led a trip up to Albany to continue the push for his universal pre-K plan, which involves taxing New York City citizens making $500,000 or more to fund it.
"The facts are on our side. The people are on our side. Now we have to get Albany on our side," preached de Blasio to a crowd of about 500 advocates, elected officials and students in the state capital. One of the parents on hand also believed time was on their side, but at the same time, they can't wait.
"I'm here on behalf of thousands of New York City parents who need pre-K and after-school programs to give their children a shot at success," said Eric Acheampong, a father of two from St. Albans, Queens, in an emailed statement. "We can't wait. We need our leaders in Albany to pass New York City's plan now."
Under de Blasio's plan, all 4-year-olds would have access to universal pre-K, with the goal of closing the gap of 53,767 children who receive part-time pre-K or no pre-K at all. It would also serve more than 73,000 4-year-olds at full implementation. In order to fund it, he's asking for a five-year increase in the New York City income tax on earners over $500,000 from 3.87 percent to 4.41 percent, which would yield approximately $530 million in new revenue each year. However, New York Gov. Andrew Cuomo believes he can fund universal pre-K around the state without having to give de Blasio the green light to tax rich New Yorkers as well.
De Blasio has alliances in the New York City Council and the New York State Assembly. A couple of his biggest political teammates cited economic justice, sensible government and education as reasons to tax rich New Yorkers to pay for local kids' pre-K programs.
"Universal pre-K is an essential tool to fight inequality in New York City, and we're here in Albany today to stand up for the thousands of children who stand to benefit," stated New York City Council Speaker Melissa Mark-Viverito. "For too long, we've waited for Albany to act on its pre-K promises, and it's time to deliver for New Yorkers."
"Universal pre-K must not become a bargaining chip in future budgets as has happened too often in the past," said Assembly Speaker Sheldon Silver. "This is more than just our moral and economic imperative; it is the most fundamental way that we can give each and every child in New York a solid start on the road to academic achievement."
With regards to academic achievement, another rally was held in Albany led by Success Academy Charter School CEO Eva Moskowitz. Moskowitz is fighting against a recent de Blasio maneuver to deny her schools rent-free space. Cuomo joined the festivities and talked about not penalizing success.
"You know, Albany is an industry town, and the industry is government and the government programs," said Cuomo. "And education is treated like an industry. But what you're saying today is it's not an industry, and we have to change that culture. Because education is not about the districts and not about the pensions and not about the unions and not about the lobbyists and not about the PR firms—education is about the students, and the students come first.