Universal pre-K, charter schools battle for Albany's attention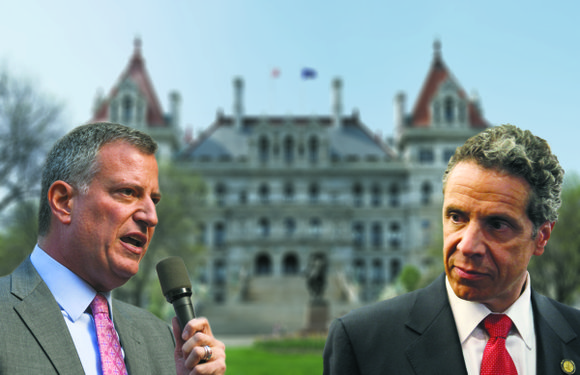 "We know that too many public schools are failing. Over 200 failing schools–6 percent grade level for reading, 5 percent grade level for math," Cuomo continued. "We need new ideas. Einstein said insanity is doing the same thing over and over and over again and expecting a different result."
Ironically, de Blasio used the exact same Einstein line during his "tax for universal pre-K" speech in Albany.
Last week, de Blasio killed plans made by former Mayor Michael Bloomberg to further expand Success Academy schools into public school spaces. Moskowitz planned on moving new schools into spaces unoccupied in the August Martin High School complex in Jamaica, Queens, and Murry Bergtraum High School in lower Manhattan in time for the 2014-15 school year. Moskowtiz's plans to expand Success Academy Middle School to P.S. 149 in Harlem were pushed back by the de Blasio administration as well.
Despite preaching about de Blasio's desire to curtail charter school expansion into public spaces, Moskowtiz was still shocked that the mayor followed through on one of his campaign promises.
Moskowtiz told Capital New York she "frankly thought the rhetoric of the mayor would change once he got into government. Campaigning is generally different, so I didn't expect to be in this position. And we're feeling very vulnerable."
But Moskowitz also remained confident that the governor has her back. "It's just nice to have friends and supporters," she told Capital New York. "We have felt kind of alone in this fight."
Other parents and activists were none too impressed by Cuomo's participation in the pro-charter school rally. Some even believe his presence was a deflection tactic.
"This is another attempt by the governor to distract attention from the real issues facing New York public schools: fair state funding and expanding universal pre-K for all," said David Sciarra, director of the Campaign for Fiscal Equity, in a statement. "We are confident legislators [who] will remain focused on these priorities to advance educational opportunities for all New York public school children."
"Gov. Cuomo's appearance is extremely troubling considering he is simultaneously severely underfunding public schools," added Alliance for Quality Education Executive Director Bill Easton in a statement of his own. "The governor repeatedly says 'money doesn't matter' in education, but when it comes to giving funding to privately run charter schools, it's all about the money."
Celia Green, parent leader of New York Communities for Change, went to the playbook used by many detectives in crime dramas: finance.
"Follow the money," said Green in a statement. "Gov. Cuomo's re-election campaign war chest has ballooned from the checkbooks of Wall Street billionaires bankrolling corporate charter chains. It is outrageous that Gov. Cuomo rallies for them while being a complete roadblock to adequate public school funding."
Late Tuesday afternoon, de Blasio and Cuomo had a long, closed-door meeting to discuss universal pre-K funding and the charter school situation. If what happened earlier that day was any indication, stubborn minds and pride will not be swayed on both issues.