Dreamers descend on Disney
'The way to get started is to quit talking and begin doing.' -Walt Disney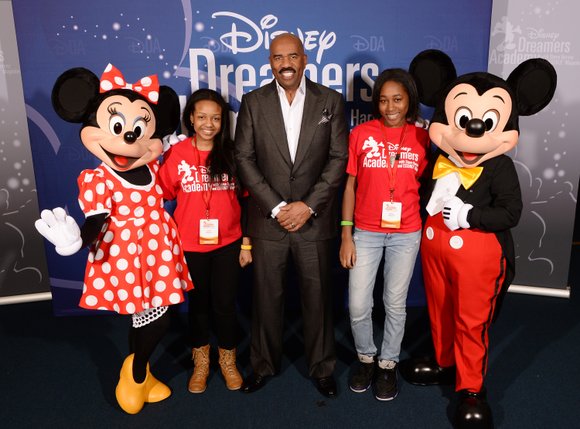 Anderson was born in Manchester, Jamaica, and moved to New York at age 5. Currently, she is a senior at the Greater New York Academy high school. At her school, she is the Student Association secretary and an editor on the yearbook staff. The opportunities she experienced though the program were life changing. The greatest gift that the program gave her was confidence. She says that this has helped her get over her shyness and now says, "I believe I can do it." Her goal is to attend college and pursue a career in broadcast journalism.
Daniel Anikwue: Northside Charter School, Brooklyn, N.Y.
Anikwue was born in Nigeria and now lives in Brooklyn. He had never intended to apply to the Dreamers program, but his mother persuaded him to put in the application. He actually did not want to do it; he was too busy doing college and scholarship applications. But finally, he acquiesced and sent his application in. Now Anikwue is a believer of the magic and says, "Nothing can hold me back." He also said that this experience makes him want to do more. Next fall, he will attend college, and he dreams of becoming an emergency room doctor and possibly owning his own hospital some day because he believes we have to do better with health care and he wants to help solve the problem.
Madison Mack: The Young Women's Leadership School of Brooklyn, Brooklyn, N.Y.
Mack dreams of being the the first African-American four-star general in the U.S. Army. She wants to become a person who helps change history for African-Americans and women—just like Major General Marcia Anderson. She now knows that leadership is the key to her goals and said this experience has been fun and extremely helpful.
Chelsea Mina: Berkeley Carroll School, Brooklyn, N.Y.
Chelsea is a 14-year-old freshman at the Berkeley Carroll School. Her passion is working with women and children in her community and abroad. She dreams of starting an organization called LECHE, Let Every Child Have an Education. It would create schools in countries around that world so that they can have a better future. Of the Dreamers Academy, she said that she never thought she would get to meet the people she did through this experience. She hopes to attend an historically Black college or university after graduation. In one world, she described the experience as "amazing."