Charter school debate rages on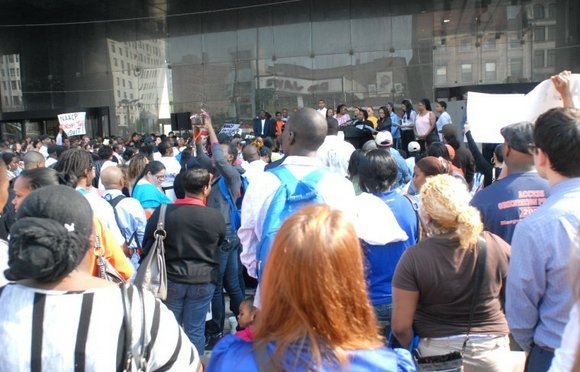 Adhering to a campaign promise, Mayor Bill de Blasio began curtailing the rapid expansion of charter schools throughout the city, including some Success Academy charters run by former City Council Member Eva Moskowitz. A close associate with former mayor Michael Bloomberg, Moskowitz was given free rein to open 22 city charter schools with millions upon millions of dollars available for operations, as Bloomberg pushed his charter school agenda with a vengeance over the last decade.
Last week, de Blasio announced that the majority of the Bloomberg/Dennis Walcott-approved 45 colocation decisions approved would be allowed to open aside from six schools, including three Success Academy charter schools. This leaves 194 children looking for new schools next year.
Moskowitz and her charter school advocate movement decried de Blasio's decision to revoke $200 million in capital funding for charter schools and for canceling the Bloomberg-endorsed decision to continue his trend by giving another three charters rent-free public school space.
Citing the fact that he approved 14 of 17 proposals to allow charter schools in public school spaces, including five run by Moskowitz, the mayor noted, "By definition, we have shown an openness and a willingness to work with everyone. We will work with charter schools.
"We came up with criteria. We said we do not want to put, for example, an elementary school in a high school building," said de Blasio. "We do not want to displace any special ed kids."
The city is not against charter schools, de Blasio stated. "We are for helping all children served by our public school district. That's why we are committed to helping families of Success Academy 4 find a new space, but we will not support colocation policies that benefit some students at the expense of children with disabilities," he said.
"I support charter schools having the right to exist, but they must pay their rent or get their own building. They don't have the right to impose their bills on the city," the Rev. Al Sharpton told the AmNews. "Secondly, let us remember that Mayor de Blasio granted 14 charter schools colocations, and of the eight Eva Moskowitz requested, she got five. The dispute is over three. This is not about charter schools, it's about someone demanding all that they want or else, and no one should be able to dictate to the city at the expense of public school children."
Pitting friends against friends, teachers against colleagues, students against other pupils, activists against elected officials and politicians against each other, the charter school versus public school debate is raging across the nation.
"Promoting segregation, whether in education or society, is wrong. In traditional public school buildings, many children have to endure a 'separate but equal' reality from charter school students," charged activist Marquez Claxton. "Worse yet, charter schools have become addicted to rent-free space and accommodations at the expense of traditional public education. The charter school lotteries are a gamble that keeps the majority of public school children betting over their heads and on the outside looking in."