Charter school debate rages on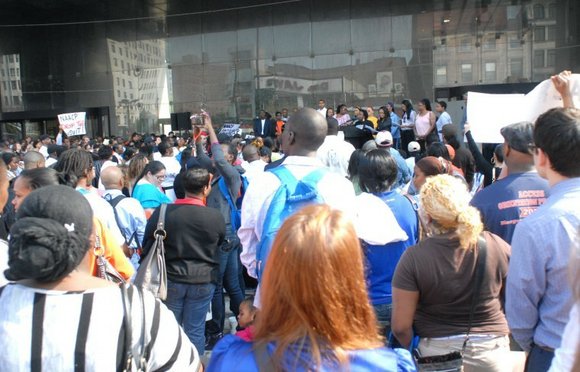 Meanwhile, educational activist groups and individuals have merely stepped up the fight they have been entrenched in for years, including Public Advocate Letitia James, the United Federation of Teachers and the NAACP. There have been and will continue to be rallies, press conferences, political posturing and street corner theater as this issue plays out center stage while the city's 1.1 million school children look on, and while anxious parents and guardians hold out hope that the politicos and other-agenda financiers work it out with minimum collateral damage.
"When colocations are jammed through without input from parents, teachers and our communities—and without properly analyzing the impact they would have on our children—we simply can't stand by. I commend the de Blasio administration for setting the right precedent and blocking some forced colocations, but we must do more to ensure that every child has access to quality education and that parents' voices are heard," James told the AmNews. "Last Saturday, we heard from parents whose children were having lunch at 9:30 a.m. in the morning; whose children didn't have access to physical education or libraries; and most upsetting, we heard from parents whose special needs children weren't receiving the support they need to thrive."
April Henderson, who runs the Bed Stuy-based April Showers Day Care Center, said that she witnesses the strain expressed by many of the children she comes into contact with. The educator said, "They should work out a system where there is the same curriculum and the same resources for all the children.What is happening now is not fair to the majority of public school students. If charter schools get better results, then they should use that model in every single school, but they should not take funds from public schools to fund charter schools in public school spaces."
Last week, Moskowitz took 7,000 people, students included, to protest in Albany to get a compliant Gov. Andrew Cuomo's support, and to demand that de Blasio doesn't stop the expansion of her schools. An amped Cuomo boomed, "You are not alone. We will save charter schools. I am committed to ensuring charter schools have the financial capacity, the physical space and the government support to thrive and to grow."
The result of all this back-and-forth is that Moskowitz is suing the mayor's administration. While no one from Harlem Success Academy, including Moskowitz, responded to AmNews phone calls, last week in the press, she quipped, "Instead of shutting down an extremely high-performing school, I'd think that the mayor would want to focus on solving the education crisis."
The irony of Moskowitz's lawsuit, some say, is that she is fighting the displaced students whom she displaced through her aggressive expansion into public schools, for which she is not paying rent. She does, however, pay herself a reported $475,000 salary.
Last October, the Daily News reported, "New York City Schools Chancellor Dennis Walcott, who runs more than 1,600 public schools, earns $212,614, less than 16 of the city's top charter school executives."
"We cannot submit ourselves to undeclared hedge fund-funded education reform agendas," said activist Caleef Cousar. "This is an underground national movement to change the way our children are schooled and what they learn."
"The charter school zealots are utilizing all of their political and media relationships to frame a false argument," proclaimed Claxton. "They are selling themselves as innovative public education practitioners, all the while ignoring the imposition and drain on the already limited resources normally budgeted for our traditional public schools. Their political allies and media friends are granting them unfettered access and support without critical analysis."
Lifelong activist minister the Rev. Herbert Daughtry said de Blasio simply "removed charter schools from several locations, demanded by parents and community members. He had stated he wasn't against charter schools and would find space for the charter schools, which have been removed. It did not stop the misrepresentation of the media blitz, orchestrated by Ms. Moskowitz, the $450,000-plus-a-year Success Academy charter schools czar.
"Observing the saturation of Black and Brown parents assailing the mayor and the professional organizing of children to solicit sympathy, I am driven to question if these alleged parents, without truths and/or facts, are sent on a mission by Ms. Moskowitz in an attempt to expand her kingdom in spite of what the overwhelming number of taxpaying parents think or want."