East Harlem explosion levels two buildings; four dead, 50 injured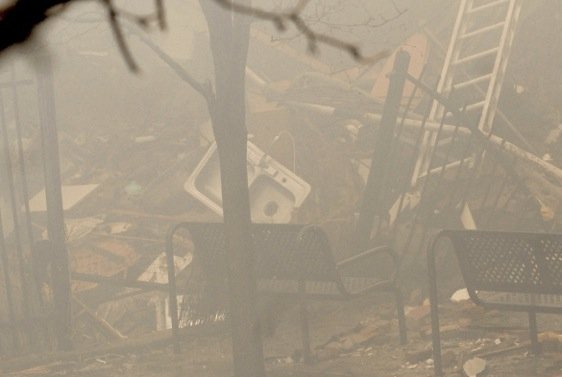 A neighborhood's landscape was changed forever after an explosion leveled two buildings in East Harlem on Wednesday morning.
Reports stated that four were dead, 50 were injured and nine remain missing after an explosion knocked down buildings 1644 and 1646 Park Ave. between East 116th and 117th streets. One building housed a storefront church, and the other housed a piano repair shop on the ground floors. The rest of both buildings were residential units. Victims were taken to nearby Harlem Hospital Center and Mt. Sinai Hospital.
According to Con Edison, a resident from a nearby building called them at 9:30 a.m. complaining of a gas smell, which turned out to be gas leak, and their response team was en route to the building when the explosion happened. According to the Fire Department, they received a call about the explosion at 9:31 a.m. and had personnel on the scene by 9:33 a.m. New York City Mayor Bill de Blasio stated that about 250 personnel were on hand in the hours following the explosion.
Both buildings, each of which were five floors high, were reduced to rubble with the explosion, which blew out windows and hurled bricks in debris around the vicinity. Some of that debris landed on the tracks of a nearby Metro-North train route, suspending the Harlem and New Haven lines indefinitely and leaving Grand Central at a virtual standstill. As of press time, nearby New York City subways were honoring Metro-North passenger tickets.
Residents who have been displaced by the explosion can go to a Red Cross Crisis Center set up at nearby P.S. 57.
Nora Ramirez, 35, had just dropped her son off at Saint Paul School on 118th Street between Park and Lexington avenues only to rush back and pick him up after the explosion rocked the area. She didn't know what happened.
"I heard a bomb. The school moved," said Ramirez's 6-year-old son, Diego.
Rene Lyons, 32, also said it sounded "like a bomb. I walked over because I know someone who lives around that area."
Another witness who wished not to be named told the AmNews that everyone was confused and scared in the immediate aftermath of the explosion.
"When I was standing there getting ready to cross the street, the first thing I heard was 'boom!'" said the witness. "I ducked my head and then looked up, and the next thing you know, I saw all this smoke. I was gonna get a sandwich. There was a man going into the building, but I think the pressure pushed him backward out of the building."
The witness also told the AmNews that he'd complained about a gas smell in the area for months, but no one listened to him.
Another unidentified witness said, "People were coming out the building, running out of there crying, saying people were in the building, but the police were moving everybody. No one could stand there because while they were saying that, the building was still coming down."