Young designers stand out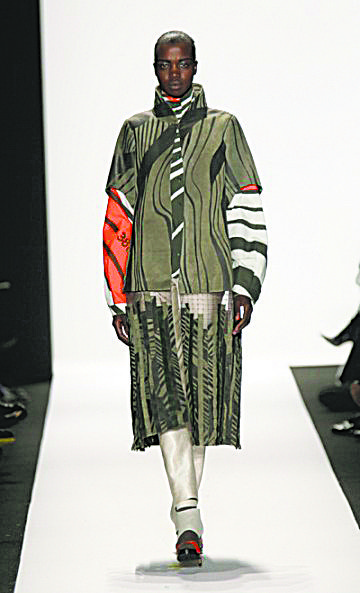 For fall '14, three young designers were featured their thesis collections in the Academy of Art University's (AAU) presentation at Mercedes-Benz Fashion Week. There were four collaborations between fashion design and textile design students, and six women's wear and two menswear collections were presented.
"Part of the school's commitment to their students is to help launch their careers and have their work viewed by industry professionals," said AAU President Elisa Stephens.
From the Bronx, N.Y., Elizabeth Castellon graduated from the High School of Fashion Industries and went on to earn a Master of Fine Arts in fashion design and Bachelor of Science in human ecology at AAU. Her fall '14 menswear collection was spectacular. Her fabrics included leather, a variety of wools and upholstery. She took inspiration from futuristic architecture, interiors, sculptures and 1930s sportswear. Her goal was to incorporate classic tailoring elements that traditionally embody menswear with an abstract, futuristic appearance.
Mingyu Du featured inspirational mod-styled looks from the 1960s. For fall '14, she used unique materials, including an Army tent, wool blanket, a parachute and cotton canvas. She collaborated with textile designer Joseph Khawane, who created the textiles for their women's wear collection. Khawane's textiles incorporated military elements. He often used fabrics in unconventional ways, manipulating them to give them new life. For additional inspiration, he was drawn to Ghanaian sculptor El Anatsui, and Syrian contemporary artist Diana Al-Hadid.
Fashion designer Jaci Hodges recently completed a design internship with gr. dano, a Bay Area-based ready-to-wear company co-founded by fellow AAU alumna Jill Giordano. For fall '14, Hodges collaborated with textile designer Nisha Hanna Btesh. Their women's wear collection was created with the use of shibori, the Japanese technique of resistance felting.
Hodges was inspired by the excess prints worn during the late 1960s. In particular, she favors the prints that were seen on "The Brady Bunch" and the costumes worn by Mia Farrow in the film "A Dandy in Aspic." Her goal is for her garments to be mixed with sophistication and quirkiness.
Btesh was born and raised in San Diego, Calif. During her time as a student at AAU, she created her own T-shirt line, Company Cream. She designed repurposed garments from items donated to the St. Vincent de Paul Society in San Francisco to benefit the organization's charity auction, Discarded to Divine. Her vibrant textile designs mixed perfectly with the design aesthetic of Hodges for their collaboration.
From Kaohsiung, Taiwan, Frank Tsai created a menswear collection that was inspired by the mood and emotion of an international photography collection entitled "Beauty in Decay." He collaborated with Andrea Nieto, who created the textiles for their collection.

After her 2013 graduation from AAU, Andrea Neito was offered an internship at BCBGMAXAZRIA. Her textile designs were inspired by personal struggle, raw emotion and the different stages of the healing process.
Arijana Kajdic from Bosnia showed a womenswear line for fall '14. Her collection blended elements of masculine designs with treatment and paid homage to the women who have nurtured her, in particular her grandmother. Each piece within the collection contains an immense amount of handwork, ranging from hand dyeing to hand beading. French lace company Sophie Hallette provided the lace in her collection, and other fabrics used included alpaca, mohair, wool, suiting, cotton, silk and gauze. After graduation, she will begin a six-month assistant designer trainee program at St. John Collection.