Young designers stand out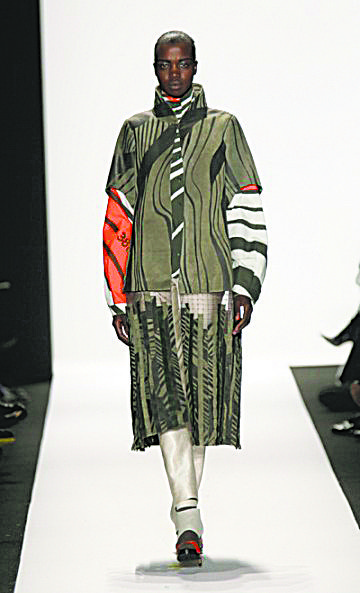 Flora Cervantes of Warwick, N.Y., offered a wonderful collection for women. She found inspiration in both the twisted shapes found in nature as well as the way human emotions are bent and gnarled by life experiences. Lori Solem collaborated with Cervantes on a women's wear collection. She was inspired by gritty, industrial textures and illustrations of the French artist Gustave Doré.
Earnest Huang's collection was inspired by his travels. His pieces were comprised of natural materials such as leather, wool and cotton and man-made fabrics like Phifertex and Viscose. His designs draw on his background in sociology, which enables him to rethink the relationships between spaces, social classes and people.
Hong Ni, a textile designer from China, collaborated with Huang. These designs were inspired by the scale and fine details of aerial view photography, as well as contour maps of the countryside. Their printed suede jacket, worn with a printed shirt and pants, was a sharp ensemble.
Jasmine Gonzales focused on knitwear. Her fall '14 collection included hand-knit pieces, handmade yarns and hand-dyed velvet. She was influenced by the idea of all cultures combining as one. The main details of her knits were taken from Fabergé eggs. The oversized silhouettes in her collection were inspired by Gonzales' interpretation of traditional Inuit outerwear. Her oversized cable sweater coat was fabulous!