Lloyd Price delivers oldies-but-goodies at the Cutting Room
Herb Boyd | 3/14/2014, 12:07 p.m.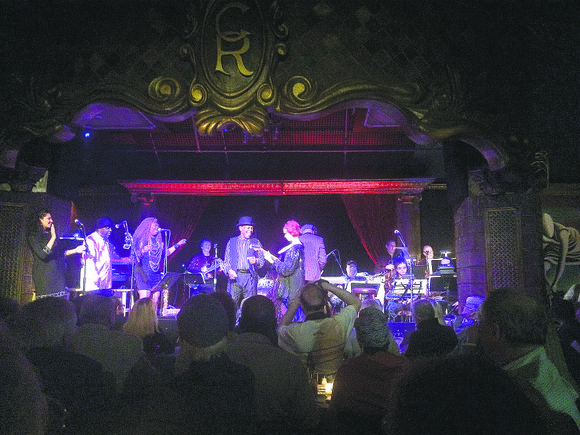 You knew it was going to be a special evening Friday at the Cutting Room with the great singer Lloyd Price in front of a spirited, robust band. Before Price pranced on stage, his band set a furious pace with Bobby Hebb's "Sunny," the alto saxophonist taking the lead on a funky solo.
Then, like a flash of lightning, a clip from an ancient episode of "The Ed Sullivan Show" was projected on the wall as he introduced Price, who quickly ripped into one of his biggest hits, "Personality." That was a nice touch, and it was a telling signpost of the one-night engagement for an audience packed with old-timers.
For a moment, it was reminiscent of an oldies-but-goodies revue, and Price would be a perfect addition to such a concert, but this was his lone trip to the past—his opportunity to relive again the songs he hasn't performed since the early 1950s. As he nears his 80th birthday in March, he is just as energetic and entertaining as he was when he first wrote and recorded "Lawdy Miss Clawdy."
He wasn't into his second song before someone yelled out a request for "Miss Clawdy," but Price toyed with the caller and appeased him with a medley of tunes, all of them provoking a sing-a-long response from his eager fans. And the call-and-response was never more fevered and loud than on "Personality," which Price composed with just such a format in mind.
"Just Because" and "Stagger Lee" are expected numbers in Price's vast repertoire, and they were delivered almost routinely. The cagey vocalist knew it was time to shift gears and let violinist Katy Jacobs strut her stuff, and she tore into a bluesy solo, practically underscoring Price's promise that "we gonna blues you before we lose you."
A couple of tunes by Fats Domino, including his signature "Blueberry Hill," was a fitting nod to his New Orleans partner of yore, and it provided him a break from memory lane, much like when he evoked the late Johnny Nash with "I Can See Clearly Now." Less effective was his crooning of "Misty," where the lyrics were either mumbled or muffed, or it could have been a technical glitch.
This was perhaps a perfect time to slow the pace a bit, and Price pulled up a stool and began the history lessons, particularly about his role in the evolution of rock and roll and how he was inducted into the Rock and Roll Hall of Fame back in the late 1980s.
He also used this moment of repartee to tell a few jokes, and the one about the cabdriver and the nun was familiar, but the one about a zebra unsure of its identity when confronted by St. Peter had a surprise ending.
A tasteful but very tender version of Billy Joel's "Just the Way You Are" was Price's way of saying goodbye, and once again he was joined by the audience in chorus after chorus.
"Hey, they need to hold him over; one show ain't good enough," one of his fans almost screamed as he headed toward the exit.
But that's the way it was from "Mr. Personality," and, as we've learned over the years, "over and over and over," the Price is always right.