Staying Warm in Spring
Georgia Stefos | 3/16/2014, 5:33 p.m.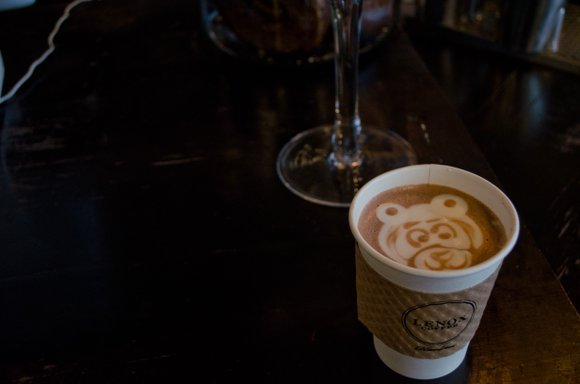 Anyone living in New York City can vouch that last winter has been one for the books. This spring may not be any better either. Since most of us probably have cabin fever by now, here are five places to stay warm in case the temperature dips again:
---
On any given freezing day Lenox Coffee is packed.
"You would think during a blizzard people would want to stay home but nope! They all just make their way to Lenox Coffee," says Anjie Recio, a current barista at the shop.
This cozy coffee spot has a variety of hot drinks to keep you warm during the cold weather. They offer everything from coffee, hot chocolate, hot teas, cappuccinos, espresso and more! The employee's personalize each drink with a fun design, and if that's not the best part, free wifi is also offered to all their customers!
Lenox coffee is located on 60 West 129th street. Open until 10 Sunday-Thursday and until midnight Friday and Saturday!
---
If you're in the mood to have your butt kicked, hot yoga might be for you. Bikram yoga is a class operating in a heated room to warm you up from the inside out. Their classes are friendly to both beginners and professionals, and the prices are very reasonable.
"I come all the time whether it's summer or winter. It's our hot sanctuary! When it's less than 10 degrees outside and 100 in the yoga room, it's going to feel really, really good," Yvonne Montanino, an avid member of this hot yoga spot said.
They also offer donation classes for charities on Wednesdays and Sundays with a minimum donation of $10.00.
Located on the second floor of 518 west 145 street between Amsterdam and Broadway. They are open seven days a week with class hours spread out throughout the day.
---
This popular restaurant is open seven days a week, including late nights. Their fireplace will ensure you stay warm and their food and drinks will invite you right in. Since the prices are a little higher than average, around $10+ for drinks, try saving this stop for a special night with friends.
"People hate to be cooped up inside their homes during the cold weather," Michelle Milton, the manager of the restaurant said. "Locals and people within the building know we offer warm cocktail specials during the snowstorm to ensure people feel comfortable."
The corner social is located on 321 Lenox Avenue and open at 11am everyday.
---
Many people are hesitant to try out spas because of the assumption of the prices. Everyone deserves to be pampered once in a while, especially in this freezing weather. Spa Boutique offers massages as low as $30.00, and an hour warm stone massage for $80.00. They have over 35 different treatments, all of which you are guaranteed to stay warm. Spa Boutique also had some recent work done inside. Make sure to go check out their new renovations! Also, check them out on groupon to save over 50% on your spa packages:
Spa Boutique 2 go is located on 69 east 130th street. Open seven days a week after 10am!
---
If you love good books, free wifi, laptops for public use and a specific center for reading and writing the Harlem Library is the place for you.
"The Harlem Public Library is seriously my go-to spot when it snows," said City College student Susan Akinyi. "Since school is never cancelled, I'm able to get my assignments done close by while staying warm outside of my apartment," The New York Public Library at the Harlem location has a very welcoming vibe. It also offers daily programs such as computer help and tutorials, laptop lounges for teens, adult gaming and more.
Harlem Library is located at 503 West 145th street. Open everyday except Sunday!