Stampede at State-Run Job Recruiting Event Leads to 20 Deaths
3/18/2014, 10 a.m. | Updated on 3/18/2014, 10 a.m.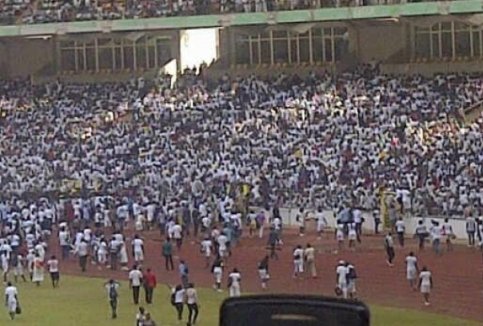 Mar. 17 (GIN) – Over half a million applicants turned up for jobs offered by the Nigerian Immigration Service last week and in the resulting crowding, some 20 panicked jobseekers were killed in a stampede.
An inquiry is being sought by the National Labor Congress and the Coalition against Corrupt Leaders. The two groups condemned the immigration service for poor planning and for demanding payment from the desperate youth.
Minister of Interior, Abba Morro, blamed the job applicants for their impatience and non-adherence to an orderly procedure. He was denounced for his remarks by the civic groups who called him "callous" adding that the collection of 1,000 naira ($6.10) from the jobseekers, was "the highest height of extortion."
While accepting responsibility, as only one stadium entrance was open at the time, the minister rejected calls for him to step down.
The demand for payment from jobseekers has now become common, even in the private sector, where thousands of applicants, are invited in droves to compete for extremely limited opportunities.
In the recent incident, some 520,000 applicants were invited to apply for 4,556 job openings.
"The specter of over 80,000 youths in a stadium in Abuja, assembled, not to watch an A-list football match, but challenged by an epic hunger to have something to do, must break all hearts. We therefore call on government to tackle unemployment with increased commitment, and appropriately sanction those who have had a hand in causing these scandalous deaths," the civic groups wrote in a press statement.
Unemployment is a particular challenge in the west Africa country with an estimated 37.5 percent of people aged under 25 out of work, according to the National Bureau of Statistics.