Boyland conviction causes uproar in BK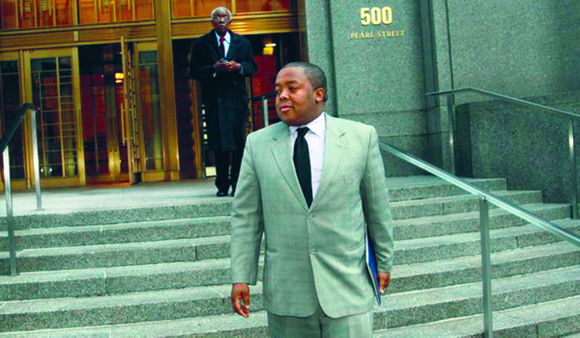 In the aftermath of the conviction of Assemblyman William Boyland, his Brooklyn district—which includes the city's poorest community, Brownsville—is going through an involuntary political reconstruction as time ticks by with another voice lost in state Legislature.
In probably one of the biggest collapses of a political dynasty, Boyland was convicted earlier this month when a jury found him guilty on 21 counts, including extortion and mail fraud. Media outlets had little sympathy in showing the fallen politician being detained, as he is not free on bail pending an appeal.
The conviction could land Boyland in prison for 30 years, with sentencing scheduled for June 30. His family, known as Kennedy-like political heavyweights in the area, has made little comment on the situation.
"The breadth and pervasiveness of the corruption exposed by this prosecution is staggering," said Loretta E. Lynch, United States attorney for the Eastern District of New York. "Wherever there was an opportunity for William Boyland to corruptly line his own pockets, he took it. By soliciting bribes, by stealing funds intended to help the elderly and by defrauding New York state and the Assembly, Boyland cravenly pursued his own interests at the expense of his constituents."
While Brooklyn's 55th Assembly District lost representation, the concern for many is when, if ever, constituents will get a replacement. Furthermore, will the area get a politician who is invested already in the community or a manufactured one from the political machine?
The 55th Assembly District office is currently closed, and no plans for a special election have been announced from Gov. Andrew Cuomo or Assembly Speaker Sheldon Silver. If one isn't held, the office could be closed for a year until the next election.
On the district's webpage on the New York Assembly's website, there is only an address to the district and state offices for the 55th. The phone numbers listed lead to a constant ring with no answer.
The 55th District is one of 10 districts in the state Assembly that is currently vacant.
Community activist Danny Goodine said that representation in the district is crucial because the need is great. Over 120,000 taxpayers who have lost a voice in state politics.
"We were hoping that his office would do the right thing by the people," said Goodine. "I felt it was appalling to use his office to do what he did and not support the community. There are certain things they could have done better. When you do stuff like that, there's consequences."
Goodine said he has plans to run for state committee district leader but offered his list of picks to replace Boyland, including Tony Herbert and Anthony Jones.
Community activist Lori Boozer has also been a name that has popped up in the race to replace Boyland. She has already received endorsements from the United Automobile, Aerospace and Agricultural Implement Workers of America union.
"I'm hoping that the community, churches and unions can start having forums so we can see what's out there. Everyone is going to jump up right now to run for Assembly. The system does not work for us, and we hope we can get the right candidate to work on these issues," Goodine said.