Fallout from the explosion: recovering and responsibility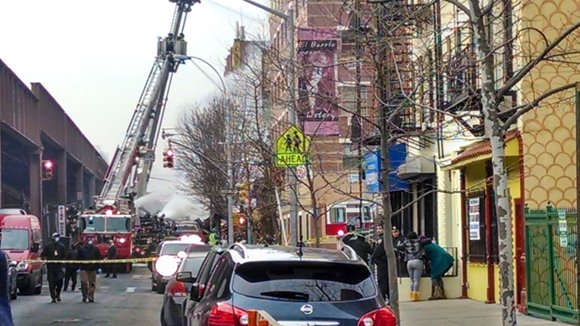 An old infrastructure, bureaucracy and home displacement. Topics that New Yorkers have talked about, but never this loudly, are rearing its head again in the aftermath of the East Harlem building explosion.
And we're just getting started.
On Tuesday, the NTSB released an update to its investigation into the explosion finding a gas leak next to one of the two collapsed buildings. According to an NTSB pressure test, the leak was identified in a main gas pipe that runs right under Park Avenue.
While notifying the public that the leak was adjacent to 1646 Park Avenue, the NTSB said they aren't drawing conclusions as to what caused the explosion. They're only presenting information. The NTSB also said that they –along with city officials – will use cameras to check inside water and sewer pipes as well. That information will be send to Washington as part of the investigation. Service lines in neighboring buildings have been tested as well, but no problems have been found.
Last Tuesday morning, 15 minutes after Con Edison received a call complaining about the smell of gas in the area, an explosion wrecked two buildings on 1644 and 1646 Park Avenue in East Harlem. The blast claimed 8 victims, injured 60 people and displaced 100 others. The explosion rocked the area with windows being blown out, people thrown from their couches and debris landing on nearby Metro North train tracks.
When gas line more than 120 years old, it was reported that the NTSB had already raised concerns about them the minute they arrived to investigate. Another person who deals with gas lines from time to time is Kenroy Watson of Watson's Plumbing & Heating, Inc. Kenroy, who mainly does business in Harlem and has been in the business for several decades, told the AmNews that on average, he received maybe one call every now and then regarding the smell of gas or a suspected leak. Ever since the explosion, the calls have increased exponentially.
Watson said that just this week he had participated in the "red-tagging" of several buildings in Harlem. "What we mean by red tag is that Con Ed came out and shut that appliance down because of a gas leak," he said.
Individuals from buildings like 547 West 145th St., 553 West 157th St. and 353 West 118th St. have all called Watson's business citing gas issues. But a many of the calls comes in the aftermath of the explosion and public panic. New Yorkers haven't been quick to call regarding gas leaks before. Watson told the AmNews his theory as to why that was the case.
"When it comes to gas leaks it's a fear of response time," said Watson. "(But) if someone calls, no matter where it is, Con Ed responds. If it's a massive leak, the fire department comes quick. Once you report as gas leak, they're going to respond as soon as possible.
The issue, Watson said, isn't with initial response; it's with the work and the tortoise-like pace that Con Edison takes care of things once they're on the scene.