Phil Jackson's hiring brings hope to Knicks fans
By VINCENT DAVIS | 3/20/2014, 3:39 p.m.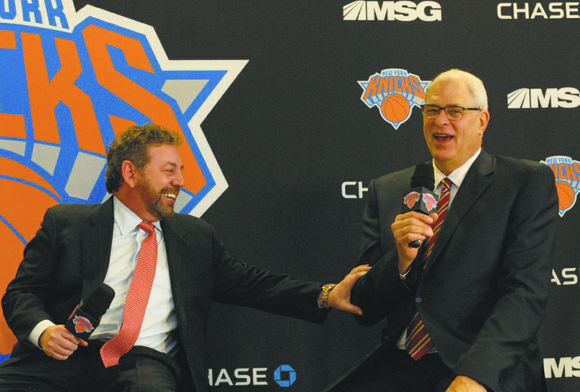 It's a good thing that Phil Jackson has broad shoulders so he can shoulder these New York Knicks.
His signing by owner James Dolan, who admittedly relinquished his basketball duties to him, brings cache, a great basketball mind and additional star power to the world's most famous arena. Jackson's deal maker, power broker and Hollywood celebrity friends will now be more inclined to request tickets when they're here.
The hoards of media that attended his press conference initiated this new era. It brings hope to fans who dream of Jackson's past successes being emulated here.
Jackson's accomplishments are well documented. If he were on LinkedIn, his resume would highlight his unique hook shot as a player, his defensive playing and his two championships with the Knicks in 1969-70 and 1972-73 with Walt "Clyde" Frazier, Earl "The Pearl" Monroe and other great Knicks alums whose retired numbers hang from the ceiling of Madison Square Garden. It would note how he coached in minor pro leagues, won a championship with the Albany Patroons before landing an assistant position with the Bulls, then replaced the head coach who hired him, eventually winning six championships with Michael Jordan, and then coaching Kobe Bryant to five championships, his first three with Shaquille O'Neal.
What's undocumented is his front office experience, or lack of it, which he refutes, stating that he was involved in deals done while he coached the Bulls, i.e., the trade of Charles Oakley to the Knicks for Bill Cartwright.
We know what all this means to the Knicks and their management, but what does this mean to Knicks fans and New Yorkers, who are known for wanting instantaneous results? The "forget tomorrow, win today" fan who has no interest in "emphasizing the attainment of enlightenment and the personal expressions of direct insight of Buddhist teachings, favoring direct understanding," as Zen is described in Wikipedia. Jackson practices that, but Knicks fans want wins and championships now more than ever. Just being relevant and "changing the culture," which is the current catchphrase for unproductive teams, isn't good enough.
What does it mean to the kids who play ball here, those who play for schools, the AAU and in the leagues and tournaments, who dream of signing an NBA contract? What does it mean to all those who run fulls and threes in gyms and parks? Though neither Jackson's style of play nor his triangle offense was ever adapted on these courts, they do know that he's won 13 NBA championships and that he's coached the guy with the hottest sneakers in the game!
In reality, what fans will have to understand is that it could be some years still before they hoist a trophy. There are 29 other NBA teams, several of whom are also trying to turn their franchises around. There are also those whose teams already have the components in place to win it all and those who are there on the come up, sitting on the periphery. Jackson has to now outthink and outmaneuver the brain trusts of Miami, Chicago, Indiana, San Antonio and Oklahoma, not game by game, but upfront at the highest executive level.