Ras Baraka: 'Believing in Newark'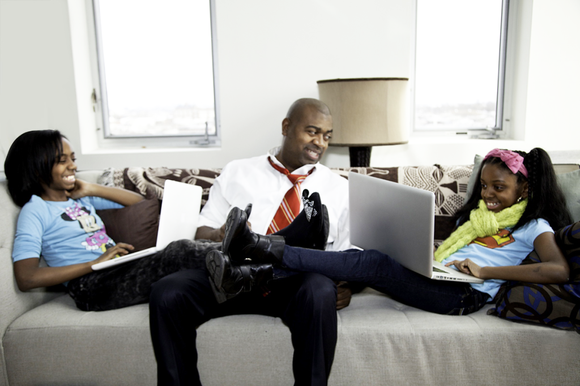 Newark mayoral candidate Ras Baraka has his sights set on filling the position left by Cory Booker, Newark's former mayor and now a U.S. senator. If elected, Baraka's plan for fixing Newark's many issues is getting at what he calls the root of the problems.
Known by many as the son of the late Amiri Baraka, Ras is a homegrown activist and politician. He grew up in Newark before heading to Washington, D.C., to graduate from Howard University. When he came back, he earned a master's degree in education supervision. He is known for his leadership at Central High School in Newark, where he served as principal from 2007 to 2013.
However, his political aspirations span over two decades. At age 24, he ran for mayor of Newark but was ultimately elected to City Council. Baraka was appointed by former Mayor Sharpe James to serve as deputy mayor from 2002 to 2005.
Baraka faces Shavar Jeffries, the former assistant attorney general and counsel to the attorney general of New Jersey. Polls show Baraka as the favorite among voters, and he has received major endorsements from the teacher's union, the Essex-West Hudson Central Labor Council, 1199SEIU and former New Jersey Gov. Richard Codey.
"We've been organizing for decades," Baraka said in a recent interview with the AmNews. "This is about the labor of many people, and I always thought I could make changes. All of the issues we are fighting for and trying to fix in the city are affecting us all over the nation."
Those issues include a troubled city budget, underfunded public schools, unemployment, violence and the continuing development of neighborhoods. Newark is also facing the issue of "food deserts," which is not often talked about. Several grocery stores have closed with plans to open more.
Baraka said that he plans to focus on jobs, including development and training. He said that many of the issues facing Newark could be solved by lowering unemployment.
"We are going to focus on neighborhood development and living wage jobs," he said. "We want to build people's skills and talents so we can develop our city economically."
He blames high crime on the high unemployment rate in the city, which correlates with the need for some folks to get money through violence. Newark has seen nearly half a century of high unemployment, and with major building developments going on, jobs should be going to locals. Baraka feels that employment issues are so important that he plans to create a deputy mayor for employment.
"The creation of jobs and economic development is key to me. We need to deal with crime, and we need to look at the root of it, which is unemployment. To me, that's the bottom line. Like any sickness, you have to look at the symptoms, but to cure the disease, you have to look at the root," he said.
Recent reports reveal that Newark's problem with stop-and-frisk is even worse than New York's. Baraka recently received an endorsement from the Newark Fraternal Order of Police Lodge No. 12 and said he has a relationship with law enforcement.