Deadline looms for health care enrollment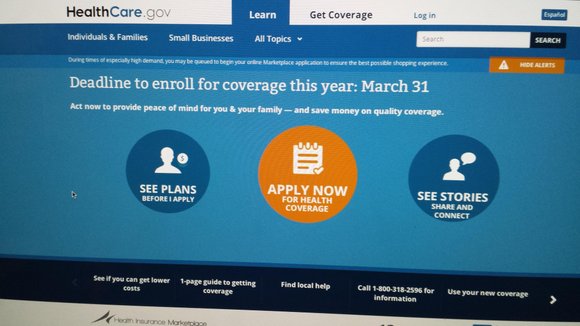 And while the push to get Americans to get enrolled continues, the forceful push continues to get more African-Americans enrolled. Since open enrollment started, numerous campaigns have rolled out in an effort to improve the health of African-Americans. The population represents a large number of uninsured Americans. Twenty-one percent, or one in five, of African-Americans under the age of 65 do not have health insurance coverage.
Statistics from the Centers for Disease Control and Prevention (CDC) show that 14 percent of African-Americans are considered to be in fair or poor health. Approximately 38 percent of African-American men and 44 percent of African-American women 20 years of age or older have hypertension, while 38 percent of African-American men and 54 percent of African-American women over 20 years of age are obese.
The National Medical Association (NMA), the nation's largest organization of African-American physicians, announced earlier this month its partnership with Enroll America and African-American religious denominations to help educate Black communities about the Affordable Care Act and increase public awareness about the opportunity for African-Americans to have health insurance coverage.
A recent survey by Enroll America showed that 68 percent of uninsured African-Americans are unaware that financial help is available to help pay for the new health insurance options. According to the Department of Health and Human Services, six in 10 uninsured African-Americans may qualify either for tax credits to purchase coverage in the Health Insurance Marketplace or for Medicaid or the Children's Health Insurance Program (CHIP).
"The churches in the African-American community play a pivotal role in informing people about the Affordable Care Act and encouraging them to enroll for health coverage," said Dr. Michael LeNoir, president of the NMA. "Our partnership with the faith community will provide our physicians with the opportunity to help the uninsured understand the long-term ramifications of diseases such as diabetes, heart disease and cancer. In addition, we will provide cholesterol, blood pressure and other screenings at the church events."