Many compelling stories, one vibrant city—this is Oakland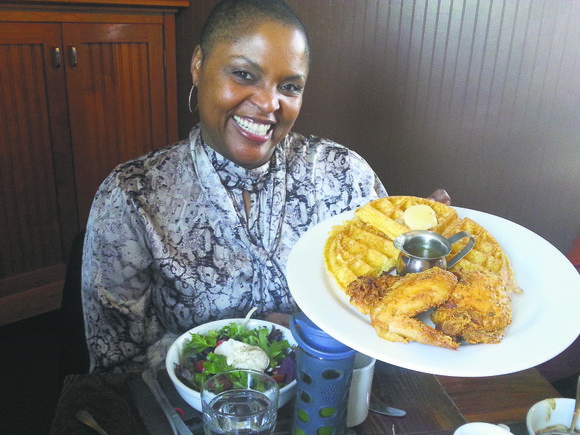 Holland's background as a chef and caterer as well her experience with, art history , and design is infused into every aspect of the ambiance and food. Their flagship dish is the buttermilk fried chicken and cornbread waffles, served with a light brown sugar butter with apple cider syrup. Other mouthwatering options are the barbecue shrimp and grits; baked egg and vegetable tart with choice of salad or breakfast potatoes; bacon-cheddar-scallion biscuits; and organic cheddar cheese grits with two poached eggs for breakfast. For lunch, there's smoked chicken and shrimp gumbo; an oyster po-boy sandwich with spicy cabbage slaw; brown sugar pineapple glazed barbecue baby back ribs; and creole barbecue shrimp with steamed basmati rice and baby spinach, just to name a few.
A few blocks away is their other restaurant, B Side BBQ, featuring chili with burnt ends and scallion sour cream; Dark and Stormy St. Louis Ribs; smoked brown sugar-rubbed brisket; spicy baked chicken wings with Rogue Creamery smoked blue cheese dip; and tasters and sides like fried okra bites with creole aioli, Yukon gold potato salad, smoked mashed yams, and barbecue braised tofu nuggets and seasonal vegetables, all set against a backdrop décor designed to honor the Black cowboys and annual Black Cowboy Parade and Heritage Festival celebrating over 30 years here.
Don't judge the book by the (slanted media) cover
As I said in part one of this series, Oakland, like many cities across the country, has undergone its share of social, political, and economic issues among others. However, it has continued to thrive, forging its own new face through development, technology, business and an evolving sense of community across a wide swath of its landscape.
I met with several African-American residents and business people here—including Martin Reynolds, senior editor for community engagement, Bay Area News Group; Dori Maynard, president of the Robert C. Maynard Institute for Journalism Education; and Fred Blackwell, the city administrator of Oakland—who are right on the pulse of the city, each offering their unique personal and professional snapshots of the city.
Among their comments about what it really means to live, work and visit Oakland is the notion that people are passionate about Oakland, but for different reasons. There is a momentum and a cultural richness not found in many other places. The eclectic restaurants and shops (90 percent of which are mom-and-pop-owned), organizations and so forth are direct reflections of the burgeoning neighborhoods, and the walkability of many areas is a highly desirable lifestyle amenity.
The crime rates, they say, have ebbed and flowed. However, the media's "fear factor" is disproportionate. In recent years, Oakland has experienced some of the highest crime reductions in the nation.
Together, these various aspects constitute a city that really feels like a special small town. There's a great deal more to come about Oakland, a jewel in the Bay Area.
---
Lysa Allman-Baldwin writes for numerous online and print publications, including as the cultural travel writer for www.Examiner.com and as a senior travel writer for SoulOfAmerica.com, an Afrocentric travel website. Lysa can be reached at lallmanbaldwin@kc.rr.com.
Resource List: