Jazzmobile Harlem Shrines Festival, Stanley Clarke returns
Jazz Notes
Ron Scott | 5/1/2014, 3:57 p.m.
Before Jazzmobile's outdoor season begins traveling throughout city streets with its mobile stage presenting live jazz, it will swing indoors from May 4-10, celebrating the fourth annual 2014 Harlem Jazz Shrines Festival with a series of concerts saluting Minton's Playhouse, Savoy Ballroom and the "King of the Lindy Hop," Frankie Manning. The seven-night salute includes presentations throughout Harlem venues featuring emerging and established artists, panel discussions, dances and films.
The Harlem Jazz Shrines Festival kicks off on May 4 at the historical Abyssinian Baptist Church (132 W. 138th St.) at 4 p.m. with their monthly "Jazz Vespers Series," which will feature the young Brianna Thomas, who is diligently climbing up the jazz vocalist ladder.
On May 5 at 7 p.m., the newly renovated Minton's Restaurant (206 W. 118th St.), where bebop emanated, will be the perfect location to discuss "Kansas City Lightning: The Rise and Times of Charlie Parker." Author Stanley Crouch and Columbia University professor Farah Jasmine Griffin will discuss his first installment of the long-awaited biography on the co-creator of bebop. Later the same evening at 10 p.m. and 11:30 p.m., the legendary club will host the series "Minton's Playhouse: New Legends on the Bandstand." The late night jam pays homage to Minton's and the many musicians who have anointed Jazzmobile's traveling stage over the last five decades.
Queens College professor and alto saxophonist-flautist Antonio Hart, formerly under the tutelage of Jimmy Heath, will lead his own group, including some young aspiring students from the New School and CW Post eager to get on the bandstand. The 11:30 p.m. set will include performances by students from Hart's and pianist Danny Mixon's classes at the New School. Mixon is also Minton's music director. Visit www.mintonsharlem.com or call 212-243-2222.
"New Legends on the Bandstand" continues on May 6 at 10 p.m. and 11:30 p.m. at Ginny's Supper Club (310 Lenox Ave.), the downstairs jazz room of the Red Rooster Harlem. Christian Sands, the young protege of Dr. Billy Taylor, will lead his trio, comprised of bassist Noah Jackson and drummer Rodney Green.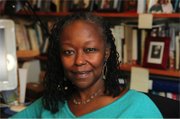 Taylor noted, "Christian not only has the work ethic and the technique, but he understands and communicates the language."
Visit www.ginnyssupperclub.com or call 212-421-3821 for more information.
Showman's (375 W. 125th St.), a historical jazz spot, will swing hard on May 6 when noted organist Nathan Lucas plays for two sets at 10 p.m. and 11:30 p.m. On May 7, drummer Kimberley Thompson plays Showman's for two shows. She is a drummer worth seeing with shining talent and explosive notes of extended proportions.
On May 7, Ginny's Supper Club will feature drummer and bandleader T.S. Monk. As the son of Thelonious Monk, T.S. Monk moved through the R&B realm before taking on jazz completely, playing with Herbie Hancock, Nnenna Freelon and Arturo Sandoval. He will lead his sextet, which includes long-time partner alto saxophonist and flautist Bobby Porcelli.
Saxophonist, arranger and composer T.K. Blue will perform selections from his "Latin Bird" album (2011) at Ginny's Supper Club on May 8. The recording highlights Charlie Parker's often overlooked connection to Latin jazz. The shows will take place at 10 p.m. and 11:30 p.m.