May 2014 dance calendar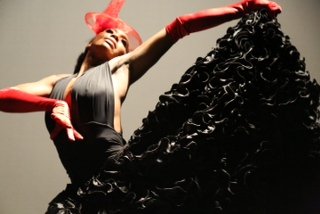 Topping this month's calendar are the Limon Dance Company (April 29-May 4) at the Joyce, Frederic Nauczyciel (May 3-5) at Julie Meneret Contemporary Art and Francesca Harper (May 2-18) at Susan Batson Studio Theater.
The Limon Dance Company returns to the Joyce with two masterworks by founder Mexican choreographer Jose Limon, "Mazurkas" (1958) and "Psalm" (1967), plus the world premieres of "She Who Carries the Sky" by dance icon Dianne McIntyre for Roxane D'Orleans Juste on the occasion of her 30th anniversary with the company as principal dancer and Associate Artistic Director Dianne McIntrye, and the full company work "Nocturnes for Ancestors" by Sean Curran. The season will be dedicated to Alan Danielson, a treasured colleague and school director of the Limon Institute who died earlier this year. For more information, visit www.limon.org.
Nauczyciel will present "The Fire Flies [Baltimore/Paris]," a solo show at Julie Meneret Contemporary Art inspired by voguers of Baltimore and Paris. For Nauczyciel, "voguing is a subculture that brings a radical understanding to performance and performativity," according to the release. This exhibition will include large-and medium- format Ilfochrome photography, video installations and performances. For more information, visit www.juliemeneret.com.
Nauczyciel performs as part of the three-week series presented by the Cultural Services of the French Embassy titled "DANSE," a multifaceted initiative centered on contemporary dance. For more information on the entire festival, visit frenchculture.org.
To celebrate the life of an American dance pioneer and her mother, Denise Jefferson (1944–2010), Francesca Harper premieres "The Look of Feeling," true stories told through dance and song. Harper promises to "reveal the woman behind her mother and her struggle with independence, feminism, single motherhood, civil rights, men and, ultimately, cancer … [by taking] … on her mother's courageous journey … from slavery in Coffeeville, Miss., in the 1800s, then onto her husband's role as a prominent attorney during the Civil Rights Movement in the 1960s, to becoming an internationally acclaimed dance educator as the founding director of the Ailey School," according to the release. For more information, visit http://slices-of-lives-productions.ticketleap.com.
Also this month:
April 30-May 4: "Age and Beauty, Part 1: Mid-Career Artist/Suicide Note or and :-/" presented as part of the 2014 Whitney Biennial created by Miguel Gutierrez and performed by Gutierrez and Mickey Mahar, "is the first of a new suite of queer pieces. Part 1 addresses what the title says," notes the press release. Performances happen at the Whitney Museum of American Art. For more information, visit whitney.org/Events/MiguelGutierrez.
May 1-2: Described as leading exemplars of Odissi, one of India's classical dance forms, Surupa Sen and Bijayini Satpathy of Nrityagram Dance Ensemble will present the U.S. premiere of "Songs of Love and Longing," choreographed by Sen, at Baryshnikov Arts Center. For more information, visit www.bacnyc.org.
May 2: Virginia Johnson, artistic director of Dance Theatre of Harlem, moderates the panel "In Good Company" with guests Abdul Latif, Camille A. Brown and Sean Curran to talk about their training and how it shapes their work, at Lincoln Center's Clark Studio Theater. For more information, visit http://lc.lincolncenter.org.