Port Authority passes resolution to improve airport worker wages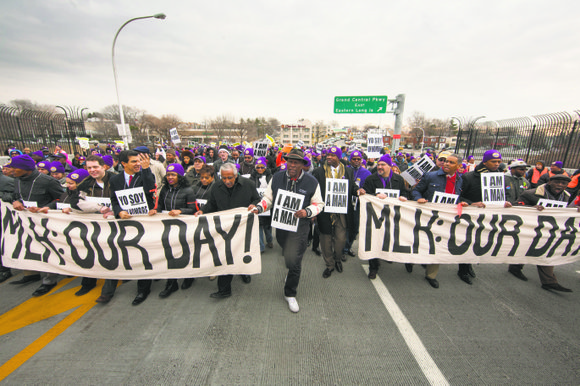 Last week, Port Authority board members voted unanimously to raise the wages of all contract employees at Kennedy, LaGuardia and Newark airports, thereby signaling a long-fought victory for employees.
The policy gives the Port Authority the power to amend new and existing agreements in order to force airlines to raise workers' pay by $1 per hour as soon as possible and phase in a $10.10 hourly wage by the end of 2015. The new policy also calls on employers to develop plans for enhanced benefits like medical coverage and to award workers paid holidays.
"LaGuardia, Kennedy and Newark airport workers thank Port Authority Executive Director Patrick Foye for solidifying his January request for immediate wage increases, a paid holiday and a plan for enhanced wages and benefits into a mandate that enjoys the full support of the Port Authority board," said Allen in a statement. "However, these thousands of workers anxiously await further details and call upon the Port to act swiftly to formulate a concrete plan instituting family-sustaining wages, benefits and guarantees that their rights are protected and their voices heard. 
"We are simply asking that the Port Authority be consistent and move quickly to hold contractors of carriers to the standards as those contractors the Port employs itself—all contractors across Port Authority sites should pay fair wages and offer comparable benefits," Allen continued. "The thousands of hardworking men and women working at the airports and struggling to get by cannot wait any longer."
Contracted workers got the ball rolling for change last year. In December, workers delivered a petition to the Port Authority's Park Avenue South headquarters that called for better wages and benefits and paid sick days and holidays.
After that, workers united with supporters, clergy members and elected officials to protest in favor of paid sick leave on Martin Luther King Day for contracted passenger service workers at Newark International, LaGuardia and John F. Kennedy airports. A crowd of close to 1,000 individuals blocked the bridge on 94th Street and Ditmars Boulevard in Astoria, Queens, leading to LaGuardia Airport to bring attention to not only the fight for wages, but improved working conditions. 
After the Martin Luther King Day protest, the Port Authority of New York and New Jersey called on the four major carriers—American Airlines, Delta Air Lines, JetBlue and United Airlines—and their contractors to give JFK workers who make $9 or less an immediate $1-an-hour raise with a phase-in to $10.10, recognize Martin Luther King Day as a paid holiday (retroactive to this year's holiday) and work toward "providing an improved wage and benefits package to the thousands of hardworking men and women" at the airports and develop a plan within 90 days.