Respites for the mind, body and soul in Quebec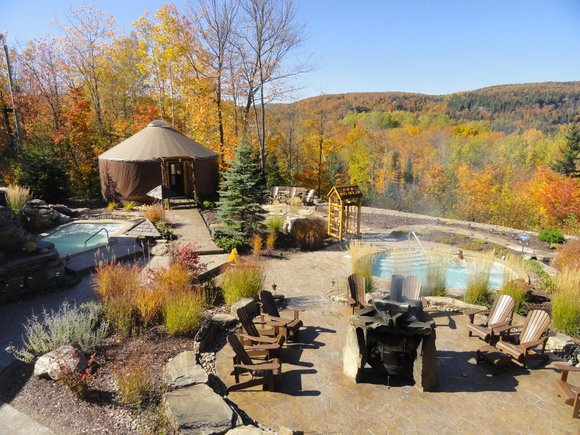 Gastronomic pleasures take place in the Bistro Le Boreal, serving a delicious variety of continental classics with a French twist, as well as in their signature Le Grand Pic Restaurant, which draws folks from all over the region for their outstanding three-, four-, five- and seven-course meals. Very reasonably priced for the quality, portion sizes, presentation and upscale service (at only $42, $46, $51 and $66, respectively), the menu features dishes like onion and port wine soup; beef bavette marinated with pears, oranges, pepper and Bordeaux wine sauce; filet of Beef Carpaccio with olive oil and sun dried tomato pesto; bison slow-cooked stew with green pepper corns; pan-fried pork ribs with a wild mushroom crust and roasted garlic and rosemary sauce; tiger shrimp, goat cheese with sundried tomatoes and leeks cooked in pastry; blue potato gnocchi with a basil Vodka sauce on a nest of sweet roots julienne; and pan-fried polenta crisp duck fat liver with dark chocolate sauce and salt flowers. The food was out of this world!
Dessert is a delightful adventure as well, with their maple and nut créme brülee served in a poached apple; gingerbread cookies with Fir tree mousse with dark chocolate ganache; and praline mousse with spiced meringue, just to name a few.
Just say aaaah!
You know you must be in Canada when one of their luxurious spa treatments is a maple scrub! Yep, you got it, a cream made with pure Canadian maple syrup smoothed all over your body, followed by a sugar scrub sprinkled over that like it was coming out of a parmesan cheese shaker—and all of this scrumptiousness was going on at 8 o'clock in the morning!
Cecile, my massage therapist, rubbed it all together ever so gently but with enough pressure to infuse it into every inch of my skin. The scent wafting around the room was so heavenly, I left like a delicate crepe being prepared for the restaurant dessert menu.
In her very cute, halting English, Cecile said, "If you go out in the … er … forest … the wild animals will eat you!" I couldn't agree more, 'cause I was ready to taste my own damn self!
After I was scrubbed from top to bottom, front to back, she carefully wrapped me in a light sheet and led me next door, where a waiting warm shower tenderly removed the tiny sugar granules, leaving me with the softest, most delightfully fragrant skin.
Grinning like I'd just won the lottery and skipping on cloud nine, I somehow made my way back to the condo into an Adirondack chair on my roomy private deck overlooking the lake. It was the perfect vista from which to enjoy and reflect upon this glorious, unparalleled resort experience.
It ain't over 'til it's over
We're not quite ready to leave the beauty and majesty of Quebec until we've delved into two more destinations in awe-inspiring Canada!
Lysa Allman-Baldwin writes for numerous online and print publications including as the cultural travel writer for www.Examiner.com and as a senior travel writer for SoulOfAmerica.com, an Afrocentric travel website. Lysa can be reached at lallmanbaldwin@kc.rr.com.
Resource list