Brooklyn borough president to work with mayor to create more affordable housing
5/8/2014, 11:28 a.m.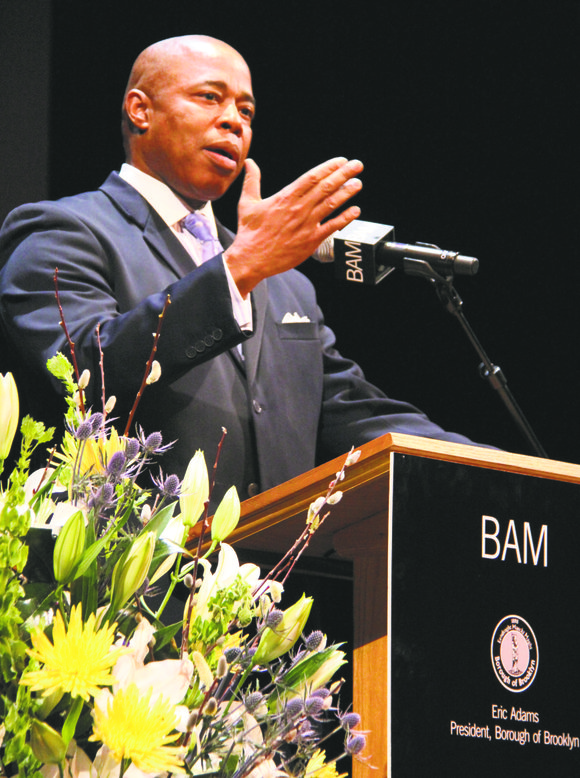 This week, Brooklyn Borough President Eric Adams proposed an amendment to the zoning of the Broadway transit corridor, from the Brooklyn-Queens Expressway to Broadway Junction, to permit more residential density. His announcement came in the wake of Mayor Bill de Blasio's declaration to achieve 200,000 affordable housing units over the next decade. The mayor's historical $41 billion housing plan is the first of its kind in our nation's history.
Adams applauded the mayor's plan, calling it "a road map that will help lead us to the goal of constructing and preserving hundreds of thousands of housing units we will need" to maintain a vibrant and diverse city.
"The Broadway corridor is an untapped opportunity to expand Brooklyn's affordable housing capacity and to unlock the potential of Bedford-Stuyvesant, Bushwick, Ocean Hill and Williamsburg," said Adams. "Now is the time for us to re-examine our borough's zoning and identify opportunities for responsible development. I look forward to working with Mayor de Blasio and his administration to explore this and other ideas to grow and preserve our affordable housing stock."
According to housing data, nearly a third of the renters in New York City pay over 50 percent of their income in rent, well above the 30 percent federal standard of affordability. A New York University study shows the median household income of renters rose two percent from 2005 to 2012, while the median rent in New York City rose by 11 percent.
Council Member Jumaane D. Williams, deputy leader and chair of the Council's Committee on Housing and Buildings, said that although the mayor's plan is unprecedented, more needs to be done. "We know that more than 200,000 units are needed to truly address the city's housing crisis. This will require political will and commitment to get it done. Further, there are several things I hope to see the mayor expound on," said Williams. "Most importantly, repealing the 1971 Urstadt Law will play a prominent role in the mayor's push for action in Albany, as it prevents New York City from strengthening rent regulation laws that are meant to protect the nearly 2.5 million tenants who live in rent-stabilized or rent-controlled apartments. Urstadt's repeal would help stop the permanent loss of more than 150,000 rent-regulated units every year."
The city will take on what de Blasio called "ground-up neighborhood planning" to identify areas with housing opportunities. Officials said the plan is a collaboration of 13 city agencies and more than 200 developers, housing advocates and labor leaders.
"Roughly 194,000 construction jobs and almost 7,100 permanent jobs will be generated by the housing plan," the mayor said.