Cosmopolitan Review May 8 - 14, 2014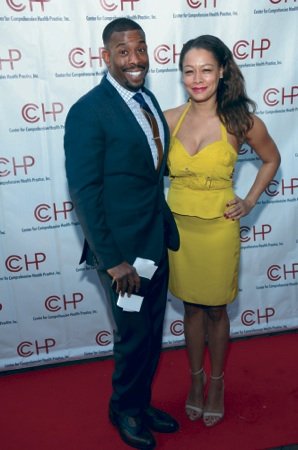 Guests poured into Central Park to enjoy live music, an outdoor cocktail reception and a seated dinner at the Loeb Boathouse with stunning views of the lake to attend the Center for Comprehensive Health Practice (CCHP) and Early Childhood Development Center (ECDC) annual gala. CCHP and ECDC are a nonprofit multidisciplinary community health center and substance abuse program located in East Harlem that is celebrating "40 years of building healthy families." WABC-TV anchors Bill Ritter and Liz Cho, along with comic Chuck Nice, hosted the event, which raised $182,790 to support the ECDC program. 
According to Richard Porter, CEO of CCHP, "The organization is committed to providing high quality comprehensive health care services for parents being able to care for their children. Our myriad of services are designed to help individuals sustain a lifelong healthy life."
CCHP and ECDC assist parents in raising happy, healthy children who are loved regardless of what walks of life they come from. The gala was produced by Bee Season Consulting.
Happy birthday to Jaaaaames Brown, the "Godfather of Soul" and the hardest working man in show business, who would have turned 81 years old on May 3. Birthday wishes also to Artie Phillips, Sandra Carrion and Maria Tang. 
Condolences to the family of Anthony "Tony" Drexel Duke (1918-2014). Duke, who was founder and president of Boys & Girls Harbor, died after a long battle with cancer. According to the family, Duke dedicated his career to educating children. The education and performing arts nonprofit was formed in 1937 as an outgrowth of a small summer camp for 12 inner-city boys. Over the years, the Harbor has served over 50,000 students and their families and continues this service for thousands of participants from Harlem and surrounding communities.
"Tony was more than just a figurehead. He developed personal relationships with the Harbor staff, students and alumni. He made sure that the Harbor served as a real home and learning environment for students. He was a true living legend," said his family members.
I also want to extend my sympathies to Adrienne Moody, who recently lost his father.
Congratulations to the son of the late Judge Ted Jones, who recently got married. Dad, I'm sure, sends his blessings.
The Boys Club of New York hosted a wonderful dinner at the Mandarin Oriental hotel, where the young, gifted and talented Claudius Agrippa opened the evening by playing the national anthem on his violin. Meanwhile, Valentino Carlotti, the "it guy," was honored, along with Ashley Schiff Ramos, at Jazz at Lincoln Center's annual gala.  
The 2014 annual gala "Love, Loss and Laughter: The Story of Jazz" concert and dinner featured Billy Crystal as its host and Jazz at Lincoln Center Orchestra with Wynton Marsalis.  
Not to be outdone, the Metropolitan Opera held its annual dinner dance onstage at the Met—oh la la. In attendance were Kenneth and Kareitha Forde.
The National Dance Institute chose to hold its benefit at the Best Buy Theater, where Charles Riley captivated the audience with his hat, a la Pharrell Williams.
The Food, Allergy, Research and Education group held its 15th annual spring luncheon at Cipriani 42nd Street, and who was there to show their love and give their support? None other than ABC anchor Lori Stokes and philanthropist Malaak Compton Rock, Chris Rock's wife.