Finally: UFT, de Blasio agree on new deal
5/8/2014, 10:36 a.m.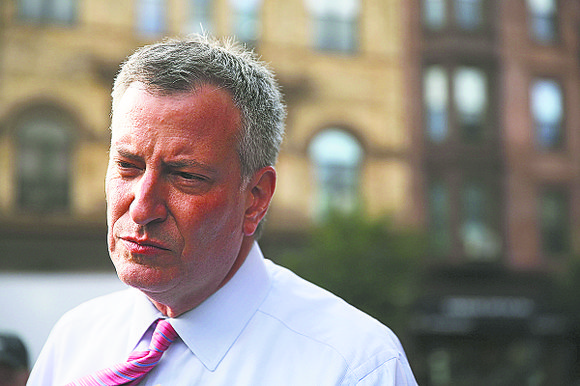 For New York City's public school teachers, happy days are here again.
Last week, the United Federation of Teachers and the city of New York agreed on a nine-year teachers contract, giving teachers their first contract in five years. The agreement was later ratified by the UFT's executive board.
During a news conference at City Hall, Mayor Bill de Blasio discussed the stagnation and intractability of the Michael Bloomberg administration when it came to working on a new deal with the teachers' union.
"And the last five years engendered such frustration, a logjam that seemed so often intractable, and so wrong, and so unnecessary, with so much rancor, and one that I know the members of the UFT deeply wanted to move past so they could get on with the important work they do," said de Blasio during last week's news conference. "And what we've achieved here is not only the end of a stalemate and the settling of such important issues, the beginning of a time of stability—we've also set forward on the path of reform, introducing an array of crucial reforms that position New York City schools to succeed in the 21st century."
The ratified contract includes a total package of 18 percent in raises, including all retroactive pay, plus a $1,000 cash bonus that teachers will receive upon ratification of the deal. It also includes a 2 percent increase later on this year. The other annual raises would be paid in May of each year. The retroactive payments UFT members missed from the previous round—and the associated annual rate increases—will be phased in at the start of 2015 and end in 2010.
Another part of the deal includes the simplification of the teacher evaluation process, focusing on eight components instead of the current 22. Under the current system, teachers in grades or subjects that aren't covered by tests can be evaluated in part on school-wide measures that include results for students they don't teach. Under the new deal, teachers in untested subjects or grades have the option to be evaluated on the results of students they actually teach.
UFT President Michael Mulgrew called the new deal a contract for education.
"The solution to great education exists in each and every school right now," said Mulgrew at the news conference. "We just needed to create a platform and an environment that allows them to do what they have dedicated their lives to do, which is helping children learn."
Part of the deal also includes the agreement to create a 40-minute period every Tuesday for teachers to reach out to parents by either email, letter, phone or face-to-face meetings. Teachers will also be allowed to use that time to create newsletters or school or class websites. The agreement also increases the length of parent-teacher conferences from two and a half to three hours and doubles the number of conferences from two to four each year.
New York City Schools Chancellor Carmen Farina had extra praise for that part of the deal.